French air traffic strike comes to an end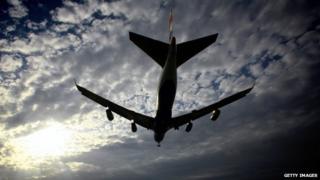 A strike by French air traffic controllers that caused widespread disruption to UK flights has ended.
Unions confirmed the industrial action against budget cuts, which began on Tuesday, had been called off, AFP news agency reported.
The strike had been expected to continue until the weekend.
The disruption worsened on Wednesday afternoon when Belgian air traffic controllers announced they would join the strike.
'Heavily disrupted'
That action caused a two-hour closure in Belgium's air space.
Ryanair, which said it had cancelled 15% of its flights on Wednesday, said all its scheduled flights on Thursday would operate as normal.
It said all its affected customers had been contacted by email and SMS.
Easyjet cancelled about 20% of Wednesday's flights in and out of France.
The Unsa-ICNA union, which launched the protest, said the strike had been called off after the government recognised the "importance of investment in the sector".
Passengers due to fly between Britain and France had been urged to check the status of their flight with their airlines.
Monarch Airlines said it had not cancelled any flights during the strike period and continued to "try to minimise disruption for our customers as much as possible".
Flybe also said it had not cancelled any flights on Wednesday.