World Cup exit leaves England fans philosophical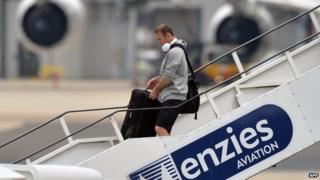 In the leafy streets of Belo Horizonte, groups of football fans gathered around television monitors and big screens erected outside the city's many bars.
The temperature at this time of year is balmy and, despite the relatively early hour, the fans were already drinking beer and eating meat or cheese pasties. (Being a football fan was never the healthiest of pursuits.)
The fans are all in a good mood; from Chile, Argentina, Holland and Brazil they're not only enjoying the last of the round one matches but are also discussing who their teams will be playing in the next round - the knockout stage.
Sadly, for the many thousands of England supporters here in Belo Horizonte, the "next round" is a dream they can no longer contemplate after their disastrous showing in this World Cup.
Nonetheless, most of the England followers I met here in Brazil's third biggest city were putting a brave face on things.
Thousands spent
"I always think we're going to win, I always think we're going to do better than we do and I always end up disappointed," said Nick Phillips from Worcester.
He was settling down, beer in hand, somewhat enviously to watch the classy Netherlands team as they cantered towards the last sixteen with minimal effort.
Getting to and travelling around Brazil hasn't been easy or cheap by any stretch of the imagination.
Paul Mitchell from Blackpool in Lancashire was, like his friends, a veteran of many England World Cup campaigns and equally phlegmatic about the ultimate futility of it all.
"I must have spent about eight or nine thousand pounds," he told me.
"You never have high expectations with England - but this time we had low expectations and they still managed to come in below them," said Paul.
Some 4,000 England fans came to Belo Horizonte and before that they were in Manaus, up in the Amazon region, and also at Sao Paulo where their World Cup dream was all but dashed just nine days into the tournament with defeat against Uruguay.
Fan solidarity
The old image and adage of boozy, angry and boisterous England fans doesn't really hold true any more - especially on these long trips.
No one I've met over the last fortnight has remotely expressed any interest in causing trouble and it's great to see fans from all countries mixing and chatting together here in Brazil.
Enjoying the limelight right now are the tournament's surprise package, fans from the small Central American nation of Costa Rica.
The "Ticos" had already qualified for the next stage irrespective of how they fared against England and their supporters were loving it.
England fans, in turn, don't begrudge it to them at all. Their frustration is with their own multi-million pound Premier League flops, not the footballing paupers from Central America who are revelling in their own World Cup glory.
At a press conference before England's final training session at the city's Minerão Stadium, England manager Roy Hodgson was acutely aware of the feelings of fans who'd made such a commitment only to be disappointed again.
But the England manager also spoke of his own despair and reaction to failure.
"I have learned how painful it is," said a glum England coach, secure in his job, but still battling to come to terms with a sudden and brutal exit from the World Cup.
"I have learned a moment of sheer misfortune can throw people into a realm of despair you don't know is even possible."
It is, yet again, English fans who'll arguably feel it the most - in their pockets and in their footballing pride.
Some are determined to stay on.
Sisters Jackie Nixon and Ros Edwards are going to watch at least two more games in Brazil, even after Team England is long gone.
They'll still wear their England shirts, they tell us. The same thing happened to them last time in South Africa and they'll not let defeat and disappointment ruin the moment for them now.
After all, if you can't enjoy football in Brazil, say Jackie and Ros, you surely can't enjoy it anywhere.