Jimmy Savile NHS hospital abuse reports to be published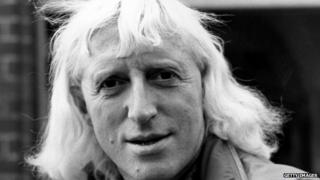 Accounts of sexual abuse and improper conduct by Jimmy Savile in 28 NHS hospitals are due to be outlined in a series of reports.
Health Secretary Jeremy Hunt is also expected to apologise in the Commons over the late broadcaster's actions.
Much of the focus will be on inquiries carried out at Leeds General Infirmary and Broadmoor psychiatric hospital, where Savile had extensive access.
An inquiry into abuse by Savile on BBC premises is due to report in September.
The 28 hospital reports are expected to identify opportunities that were missed for Savile's offending to be confronted over a period of more than 50 years.
A key report into his activities at Stoke Mandeville Hospital has been delayed after new information recently came to light.
Savile had a bedroom at Stoke Mandeville, where his now-defunct charitable trust was based, as well as an office and living quarters at Broadmoor.
'Appalling abuse'
Savile, a Radio 1 DJ who also presented the BBC's Top Of The Pops and Jim'll Fix It, died aged 84 in October 2011 - a year before allegations that he had sexually abused children were broadcast in an ITV documentary.
The revelations prompted more than a hundred people to come forward, giving accounts of how they were sexually assaulted by Savile on NHS premises.
The Metropolitan Police passed the material to the Department of Health, which gave it to the hospital trusts to investigate.
The Department of Health appointed Kate Lampard QC to oversee the individual independent hospital investigations to make sure they were properly carried out.
Solicitor Richard Scorer, who represents some of Savile's victims, told BBC Breakfast: "This point about missed opportunities is very important.
"The abuse that Savile committed was horrendous and horrific and appalling.
"But in a sense what made it even worse was the fact that many of his victims did complain, and those complaints were ignored and dismissed and belittled.
"It's very important we get to the truth, not just of the abuse itself but of the complaints that were made."
One of his clients was abused at Leeds General Infirmary as a teenager but when she told a nurse, her complaint was ignored, said Scorer.
Savile could have been "stopped in his tracks" if such reports were taken seriously at the time, he added.
'Vulnerable women'
One 16-year-old victim told BBC Radio 4's Today programme she was abused by Savile in a basement at the Leeds hospital.
She said: "He gently got hold of me, pulled me in, and immediately started to kiss me... It all happened so quickly, because I wasn't expecting that."
He went on to sexually assault her but when she started to tell nurses, they laughed so she did not tell them everything.
"It's only after it's all happened, I think you just feel dirty, you feel ridiculously stupid," she said.
"Because I didn't think I was that naive. And you try to analyse it and think: 'Could I have done anything differently to stop it?'.
"And to this day, all these years later, I really don't think I could have done."
A woman identified only as Roberta, who worked as a paid independent adviser at Broadmoor in the 1980s, said she was told at the time that allegations of sexual assault had been raised.
Asked if the NHS let down patients at Broadmoor, she replied: "I think they totally failed in their duty of care to those patients.
"They were the most vulnerable women in the psychiatric system who came from a background of abuse and were left to be abused again within the system that was supposed to be protecting them."
'Predatory offender'
In total, the Department of Health investigated the links 35 hospitals or homes had with Savile.
Reports will also be issued on: St Catherine's Hospital (Birkenhead); Saxondale Mental Health Hospital; Portsmouth Royal Hospital; Dewsbury and District Hospital (including Pinderfields Hospital); High Royds Psychiatric Hospital; Cardiff Royal Infirmary; Great Ormond Street Hospital; Exeter Hospital; Ashworth Hospital; Barnet General Hospital; Booth Hall; De La Pole Hospital; Dryburn Hospital; Hammersmith Hospital; Leavesden Secure Mental Health Hospital; Marsden Hospital; Maudsley Hospital; Odstock Hospital; Prestwich Psychiatric Hospital; Queen Victoria Hospital, East Grinstead; Royal Victoria Infirmary; Queen Mary's Hospital, Carshalton; Whitby Memorial Hospital; Wythenshawe Hospital, and Woodhouse Eaves Children's Convalescent Homes in Leicester.
A report about Wheatfield's Hospice, which is run by the Sue Ryder charity, is also due to be released.
Reports concerning two other hospitals - Rampton and Barnet, Enfield and Haringey Mental Health Trust - have also been delayed. There are also new investigations at Springfield Hospital and Crawley Hospital.
It is understood investigations at two hospitals - the Royal Free Hospital in London and Pennine Acute NHS hospitals Trust - found nothing to report.
Earlier this month a report by the NSPCC said Savile abused at least 500 victims, including some as young as two.
It came after a report in January 2013 from the NSPCC and Metropolitan Police found Savile was a "prolific, predatory sex offender" who abused children and adults over more than 50 years.
A report issued at the same time into the actions of the Crown Prosecution Service concluded that Savile could have been prosecuted in 2009, if prosecutors had taken the victims' claims more seriously.