Report UK Syria fighters, detective urges families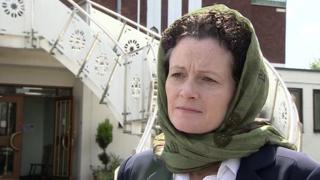 A senior counter-terrorism detective has called on relatives of Britons planning to take up arms in Syria to report them to the police.
Speaking at Birmingham Central Mosque, Det Ch Supt Sue Southern said some UK Muslims fighting in Syria and Iraq had been identified too late to prevent them from travelling abroad.
She said community leaders and family groups had a vital role to play.
The number of Britons leaving for Syria was a growing problem, she added.
Ms Southern, who is the head of the West Midlands Counter Terrorism Unit, made her comments while speaking at a conference at the mosque on Wednesday.
'Stop them going'
She said: "Many of them are educated. The sad thing is they may never realise their full potential or even may never come back alive.
"The message we want to get across [to families] is, please come forward early.
"We can't enter a war zone and try and find people and bring them back but we can try to stop them going in the first place."
Imams and community leaders who also addressed the conference said Muslims and non-Muslims could best support the people of Syria by supporting humanitarian charities.
'War'
Dr Mashuq Ally, the head of equalities and social cohesion at Birmingham City Council, said: "We have to work with families and young people to try to discourage them from participating in the conflict in Syria."
He said young Britons were travelling to the country "without any understanding of the different groups that are competing against each other to participate in that war".
On Monday it was reported that as many as 500 Britons were currently fighting in Syria, and an apparent recruitment video for jihadists in Iraq and Syria featured several Britons.
Among the men who appeared in the video three were identified as Reyaad Khan, 20, and Nasser Muthana, 20, both from Cardiff, and the third was Abdul Rakib Amin, 25 from Aberdeen (pictured from right to left below).
The men are believed to be part of the group known as the Islamic State in Iraq and the Levant (ISIS).