Afghanistan 'won't mirror Iraq', UK Army officer says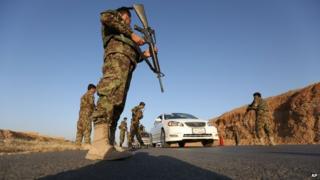 The most senior British Army officer in Afghanistan says he does not believe that country will follow Iraq into sectarian conflict when international troops withdraw by the end of the year.
Lt Gen John Lorimer told BBC Radio 5 live the circumstances in Iraq and Afghanistan were "quite different".
Iraqi forces are currently battling jihadist-led Islamist rebels.
The former head of the UK military, Lord Richards, has warned the fighting could be repeated in Afghanistan.
'Unhelpful comparison'
Lt Gen Lorimer, who is the deputy head of the Nato-led mission, is in his last week of service in Afghanistan.
He said he was confident the country would be secure as international troops withdraw, saying the Afghan national security forces were better equipped and trained to deal with the threat of insurgents than Iraqi forces.
"I don't think the comparison between Iraq and Afghanistan is a particularly helpful one", he said.
"The circumstances are quite different, the context is different, I think the important thing about this next mission is that the international troops who were here to train, advise and assess the Afghan national security forces...the Afghans want the international community to remain here."
Lt Gen Lorimer said the Afghan forces had been "pretty impressive" in maintaining security in the run-up to the country's elections.
He added: "There are still gaps in their capabilities, they are working on them, they have recognised what they are, and the international community is helping them fill those gaps."
That community has committed $4bn (£2.4bn) a year for security in Afghanistan until 2017 and $4bn a year for development to underpin future security and stability.
'Wake-up call'
Earlier this month Afghan President Hamid Karzai dismissed the possibility of al-Qaeda linked groups making a comeback in his country in a similar way to Iraq.
Asked whether what was happening in Iraq could happen in Afghanistan, the president told the BBC: "Never, not at all."
But this week Lord Richards, who retired last year as chief of the defence staff, warned the fighting could be repeated in Afghanistan unless the government in Kabul was given the support it needed.
He told Sky News: "For me it's a wake-up call that if we don't just honour our commitments to the people of Afghanistan made in very good faith...I fear what we are seeing in Syria and Iraq could happen in Afghanistan next year and the thing we should be focusing on now is containing this".