Prince Harry wraps up South American tour with visit to children's centre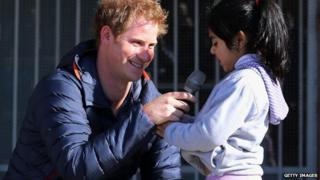 Prince Harry has completed his week-long tour of Brazil and Chile.
During his trip he visited a Chilean community hit by wildfires, met recovering drug addicts in Brazil's Sao Paulo and watched two World Cup games.
The tour concluded with visits to a day centre for children with mental and physical disabilities and an outdoor centre in Chile's capital, Santiago.
The trip marked the prince's first visit to Chile and followed his official visit to Brazil in March 2012.
On the last day of his tour, Prince Harry visited the Fundacion Amigos de Jesus centre - which was set up in a suburb of the Chilean capital of Santiago by a group of women for disabled children.
He spent around 45 minutes sitting, playing and interacting with youngsters with a range of disabilities.
Sue MacLeod, the wife of the defence attache at the British Embassy and who volunteers at the centre, said the prince had seemed "genuinely moved" by his visit.
"You could see it in his face when he is with the children," she said.
Prince Harry then visited an outdoor centre in Antaeaya - in the foothills of Chile's Andes mountain range - but called off his participation in trail bike riding lesson after feeling unwell.
Instead the prince watched youngsters ride close to a river bed and performing wheelies.
A Kensington Palace spokesman said Harry was "under the weather" and also had a "splitting headache" and so had opted not join the children taking part in the motorbike lesson.
The prince began his tour on 23 June, with a visit to a hospital in Brasillia specialising in rehabilitation, orthopaedic and neuropsychological work.
He also visited Great Britain's training bases in Belo Horizonte for the Rio 2016 Olympics and Paralympics and later went to a social project to help reduce crime and drug abuse in one of Sao Paulo's poorest neighbourhoods.
The prince also watched the Cameroon v Brazil and England v Costa Rica Fifa World Cup matches, before attending a party to mark the Queen's birthday.
After arriving in Chile, Prince Harry paid his respects at a monument to Chile's founding father, Bernardo O'Higgins by laying a wreath.
He also had a meeting with Chile's President Michelle Bachelet before visiting families affected by the Valparaiso wildfires fires in April 2014.