Lawyer seeks shorter Andy Coulson sentence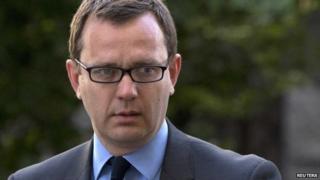 Andy Coulson did not know the phone hacking going on while he was News of the World editor was illegal and this fact should mitigate the sentence he faces, his lawyer has said.
Timothy Langdale QC told the Old Bailey this was "perhaps the most salient factor" the judge should bear in mind.
He also urged the court to consider the "positives in the paper he edited".
Coulson, 46, had denied being part of a conspiracy to intercept voicemail messages but was convicted last week.
He will be sentenced on Friday alongside three other former journalists at the tabloid and Glenn Mulcaire, the ex-private investigator they tasked with hacking.
News editor Greg Miskiw, 64, from Leeds; chief reporter Neville Thurlbeck, 52, of Esher, Surrey; and James Weatherup, 58, of Brentwood in Essex, all pleaded guilty to conspiracy.
Breach of code
Mulcaire, 43, from Sutton, south London, who also admitted conspiracy, was first convicted of phone hacking with the paper's royal reporter Clive Goodman in 2006 and served a prison sentence.
But Mr Langdale said until that case "no-one at the News of the World, or the newspaper industry at large, realised that the interception of voicemail messages was illegal".
He said the newspaper's legal department had not advised Coulson it was an offence and it was initially thought the practice was only a breach of the Press Complaints Commission code.
Coulson faces up to two years imprisonment but Mr Langdale said the facts of the case "do not justify the maximum penalty".
Mr Langdale told the court Coulson "was an editor when a considerable amount of hacking took place but there are many undiluted positives in the paper he edited".
He said Coulson, who went on to be director of communications at Downing Street, "is a man of real talent who has much to offer to society".
But he added: "Because of his role after he left the News of the World, because of the wider background to the wider investigation, Mr Coulson has become something of a lightning conductor for the political aspect."
Former Spectator editor Matthew d'Ancona appeared as a character witness, and told the court that, in his Number 10 job, Coulson "regarded it as his role to bring some prestige back to the role and make it trustworthy. There was public spiritedness there that was easily forgotten".
Coulson, of Charing in Kent, faces a retrial - along with Mr Goodman - accused of buying royal telephone directories from police officers. The jury failed to reach a verdict on the charges.