UK should do more in Nigeria schoolgirl hunt - Brown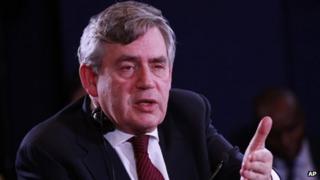 The UK should do more to help the government in Nigeria find and release more than 200 abducted school girls, former Prime Minister Gordon Brown has said.
He also said the international community should provide more helicopters and surveillance equipment.
The girls were abducted by Islamic militant group Boko Haram in April.
The Nigerian government has said it knows where the abductees are, but a rescue could lead to them being killed.
'Special forces'
During a debate in the House of Commons, Mr Brown said that "in its hour of need" Nigeria required "more helicopter support, more aircraft cover, more surveillance equipment".
The former Labour Party leader added: "I believe that we should also support President [Goodluck] Jonathan's call for a better co-ordinated system for sharing intelligence across borders, and if necessary the use of special forces and law enforcement agencies to help them confront terrorism."
He said the world's attention span was limited, and interest in the plight of the children had "ebbed".
The UK has already pledged £1m to help with security, but Mr Brown said the country needed to go further.
More than 2,000 people have been killed in Nigeria this year in attacks blamed on Boko Haram militants.
On Monday Nigeria's military said it had raided a Boko Haram intelligence unit thought to be linked to the girls' abduction.