World War One centenary: 'Lights-out' event planned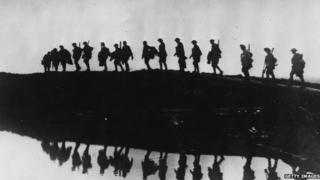 The British public are being urged to turn their lights off to mark the centenary of World War One.
The Royal British Legion is asking people to use a single candle or light for an hour from 22:00 BST on 4 August.
It was inspired by the words of wartime foreign secretary Sir Edward Grey, who said on the eve of war: "The lamps are going out all over Europe; we shall not see them lit again in our life-time."
A candle-lit vigil will take place at Westminster Abbey on the same evening.
Britain entered the war 100 years ago on 4 August 1914. The Lights Out initiative will therefore take place exactly a century after this date.
'Remember them'
Legion fundraising director Charles Byrne said he hoped that far from being cast in darkness, "over one million candles will be lit across the UK, commemorating every serviceman and woman who died".
He added that the Lights Out event aimed to "pass on the torch of remembrance to a younger generation" and ensure the living legacy of "those who sacrificed their today for our tomorrows".
The initiative is also being backed by personalities such as broadcaster Jeremy Paxman, models Twiggy and David Gandy, and gymnast Louis Smith.
Former Newsnight host Paxman said: "Three quarters of a million men didn't return from the First World War. The so-called 'War To End War' didn't do so, more's the pity. That wasn't their fault. The least we can do is to remember them."
The celebrities will also feature alongside Chelsea Pensioners and service personnel in a video to promote the initiative.