South-east UK sees hottest day of the year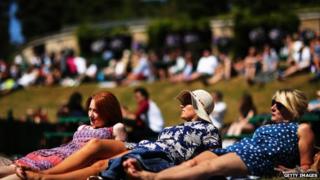 The hottest day of the year so far in the UK has been recorded, the Met Office has said, as temperatures soared to 27.7C (81.9F) in the South East.
The reading was recorded in the village of Writtle in Essex, shortly before 15:00 BST.
The previous hottest day was on 18 June in Fife, when the temperature reached 27C (80.6F).
A spokesman for Met Office said: "We could see a similar temperature cropping up tomorrow."
He added that Thursday's recording, while warm, was not exceptional.
"Friday is expected to be hot, particularly in the East Anglia area, but after that we are expecting it to drop slightly," the spokesman said.
The South East has seen the majority of the sunshine, while temperature levels in the "high teens" were recorded in northern England, and Scotland, the Met Office said.
The hottest temperature of last year - 34.1C - was recorded at Heathrow on 1 August.
In 2012, levels reached 32.4C on 18 August in Cavendish, Suffolk, and in 2011, a reading of 33.1C was recorded in Gravesend, Kent, on 27 June.