Syria aid: UK boosts cross-border aid by £46m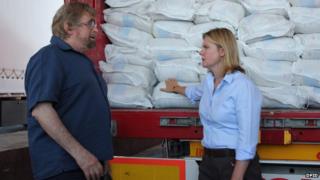 Cross-border aid operations into Syria are being boosted with more than £46m of aid from the UK, the International Development Secretary has said.
Justine Greening made the announcement during a Turkey-Syria border visit.
Some 6.5 million people have been displaced in Syria since an uprising against President Bashar al-Assad began in March 2011.
Ms Greening said the funding was a "pragmatic, effective way of ensuring we can save lives".
The funding will aim to ensure food, medical supplies and shelter reaches areas where civilians are cut off and receiving little or no help, the Department for International Development (DfID) said.
Global aid agency Mercy Corps will receive £27.3m of the £46.7m total to provide food assistance to approximately 76,000 people every month, tents for more than 2,000 families, hygiene kits for 22,500 people, and seeds, fertiliser and training for more than 20,000 people, including women and vulnerable youth.
The remaining £19.4m will go to agencies providing cross-border assistance who want to remain anonymous given the sensitivity and security risks to their work, DfID added.
Displaced population
The new funding brings the total amount given by the UK to cross-border agencies for Syrian aid to £122.7m.
More than 150,000 people are believed to have been killed in the fighting in Syria.
Access to food, water, shelter and medical care is often extremely limited for the population and because they remain inside a conflict zone, it is hard for aid agencies to reach them.
Ms Greening said: "The Syrian regime is preventing the delivery of life-saving aid into large parts of Syria, in spite of a UN Security Council Resolution demanding it.
"Hundreds are wounded daily and millions have been forced to flee their homes. Now they are being denied the help they desperately need.
"Britain's provision of cross-border aid is a pragmatic, effective way of ensuring we can save lives. The UK will continue to support the work of the UN, which is helping millions in many parts of Syria, but cross-border operations can reach those the UN cannot.
"While in Turkey I have been fortunate to meet some of the aid workers risking their lives to get this aid across the border. Their courage is giving a lifeline to millions in desperate need."