Halo Trust landmine charity suspends founder Guy Willoughby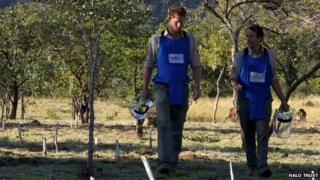 A landmine charity once supported by Princess Diana has suspended its founder and chief executive.
The Halo Trust said there had been a "serious deterioration" in relations between Guy Willoughby and the board, and it had decided to suspend him.
The trust reviewed his role after the Sunday Telegraph printed details of his £220,000 a year pay package in January.
He has not commented on the suspension, but a friend told the Telegraph he had been treated "disgracefully".
The friend also said the fallout was "damaging to the charity".
The newspaper report in January suggested Mr Willoughby's pay deal, thought to have been approved more than a decade ago, included school fees for three of his children.
Taxpayer funding
A spokesman for the Dumfries-based charity said: "The board of trustees of the Halo Trust has suspended Guy Willoughby as chief executive following a serious deterioration in relations between him and the board over the governance of the charity.
"The board will now undertake a review of the situation before deciding on the next steps to be taken."
The Halo Trust has been clearing landmines around the world for more than 25 years, and it receives £3.7m every year in UK taxpayer funding from the Department for International Development.
Princess Diana raised the charity's profile in 1997 when she was photographed watching its work in Angola, and Prince Harry and actress Angelina Jolie have also been supporters.