United Reformed Church fails to agree on gay weddings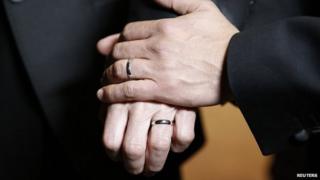 The United Reformed Church has failed to reach agreement on becoming the largest Church in the UK to hold same-sex weddings.
Its General Assembly, which met in Cardiff, failed to persuade some delegates to drop their opposition to proposals on same-sex marriage.
General secretary the Rev John Proctor said a "clear majority" was in favour, but the Church needed "full consensus".
The Church allows civil partnership ceremonies within its buildings.
But religious organisations have to "opt in" to offer weddings after gay marriage became legal in England and Wales earlier this year.
If agreed upon, individual congregations within the church would have been able to provide marriage to gay couples.
"A clear majority of members of Assembly expressed the view that local congregations should be permitted to offer same-sex marriage to those who seek that opportunity," Mr Proctor said of the debate.
"However, because our decision-making process is based on the seeking of full consensus, Assembly was unable to reach agreement."
The meeting passed a resolution inviting synods and local congregations to discuss the issue further and to report back by the end of March next year.
'Traditional understanding'
The first same-sex weddings took place on March 29 following the change in law.
The Church of England and Church in Wales, which did not support the change, are banned in law from offering gay weddings.
Scotland passed a similar law in February with the first same-sex marriages expected there in October.
But the Scottish Catholic Church and Church of Scotland opposed the move and said they had no plans to conduct such marriages.
Northern Ireland has no plans to change its laws to allow same-sex marriage.
The Quakers and the Unitarian Church have already agreed to hold gay weddings within their premises.
However, with around 90,000 members across 1,500 congregations, the United Reformed Church is considerably larger than they are.
It was first formed in 1972 by a union of the Presbyterian Church of England and the majority of churches in the Congregational Church in England and Wales. It was joined later by the Re-formed Association of the Churches of Christ in 1981 and the Congregational Union of Scotland in 2000.
BBC religious affairs correspondent Robert Pigott said the Church had hoped to achieve consensus on proposals to allow same-sex weddings without a formal vote.
But a small minority of the 300 delegates at the Assembly insisted that the services would constitute a redefinition of the traditional understanding of marriage.
One member said it was "hurtful" for same-sex couples to be asked to wait to marry within their church.
The Rev Fiona Bennett, of the Augustine United Church in Edinburgh, told the assembly: "I am asking for grace. By allowing churches to opt in, we create space for diversity to hold our unity."
Another speaker urged the church to welcome gay people "to the feast of marriage".