Harassed family gets payout after Home Office failings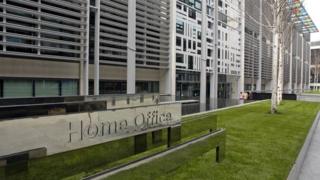 A family who endured a "living nightmare" at the hands of a violent criminal is to receive a £130,000 payout over Home Office failings.
Officials made "repeated mistakes" after being warned the Canadian man had a history of violence, a review found.
The man, who could have been stopped from entering the country, harassed the family and was arrested several times.
The Parliamentary and Health Service Ombudsman found "vital opportunities to protect the family were missed."
The man had lied about his criminal record when he entered the UK, the review said.
His previous convictions came to light when the mother of a woman he was living with became suspicious and hired a private investigator to look into his past.
She contacted the Home Office when it emerged he had an extensive history of violence and gave officials details of a flight he was taking back to the UK after a holiday.
But he was never picked up, even though lying on a visa application is grounds to refuse someone entry to the country.
Repeat arrests
The man went on to pester the family with text messages, emails and telephone calls after his relationship with the woman broke down. He was arrested for harassment, theft and criminal damage and bailed on the condition he did not go near the family's home.
On another occasion, police found him testing a crossbow and air rifle.
He was also arrested after neighbours discovered a fire at the family's home.
Police contacted the Home Office but were told the man had permission to be in the country.
The department also lost two further letters from the family setting out fears about the man.
In a report, the ombudsman found the Home Office had not listened to the concerns raised and had failed to correct mistakes.
This caused the family unnecessary pain and distress, it added.
'Terrifying experience'
Ombudsman Julie Mellor said: "A mother and her family were forced to endure a living nightmare for months because of the Home Office's repeated mistakes.
"Vital opportunities to protect the family were missed because procedures weren't followed, allegations weren't followed up and two of the complainant's letters lost.
"The Home Office needs to embed a culture of learning from mistakes into the organisation to ensure that no-one else goes through this terrifying experience."
The department was ordered to pay £120,000 as an apology to the family and £10,184 towards their expenses.
It was also ordered to carry out review into visa checks, how allegations are handled and the way correspondence is dealt with.