Threat returning UK fighters pose 'exaggerated'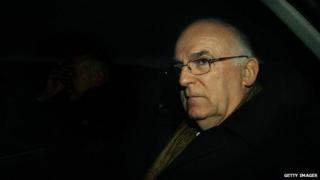 The threat posed by Britons returning from fighting in Syria and Iraq is being exaggerated, a former intelligence chief has said.
Sir Richard Dearlove said "blood-curdling" videos of radical Muslims should be ignored.
In a speech, the ex-MI6 chief warned publicity from the government and media could encourage "radical fantasies".
His comments come amid fears people are travelling from the UK to Syria and Iraq to participate in fighting.
Security services estimate 500 Britons have gone to Syria to fight for the militant group Isis (Islamic State in Iraq and the Levant).
Sir Richard said the "distortion" of the 9/11 attacks in the US meant too much priority was being given to counter-terrorism, often at the expense of more serious threats posed elsewhere.
'Pathetic figures'
He told the Royal United Services Institute defence and security think tank (Rusi) that fighting in Syria and Iraq was an "essentially Muslim on Muslim affair".
And he raised fears that media pressure was having too great an influence on security policy, including ministers "warning us again and again about the seriousness of the terrorist problems that we face".
He told Rusi: "I feel deeply uncomfortable to see our national media making national security monsters out of rather misguided young men from our Muslim communities who, I think, cut rather pathetic figures.
"Thanks to the media coverage they achieve celebrity status beyond their wildest dreams and are probably actually encouraged by the attention towards fulfilment of some of their more extreme fantasies.
"Surely better to ignore them and assume the means to control them, if and when they do come home, are sufficient to meet the threat that they pose."