Low-skilled workers 'at risk of exploitation'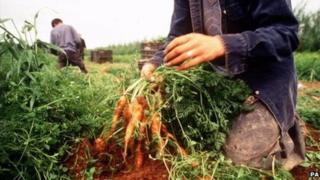 Low-skilled, vulnerable workers are at risk of exploitation because of lax labour checks, a report has warned.
The government's Migration Advisory Committee (MAC) found employment rules were either not being properly enforced or were being flouted by employers.
This affected workers from both the UK and abroad, according to the report.
MAC researchers warned the agencies tasked with tackling exploitation were weak and underfunded and said any further EU expansion must be managed.
They said European Union and British authorities should "think carefully about how any future expansions are handled" because of the income differentials between countries.
Migrant workers
13m
low-skilled jobs in UK
2.1m
filled by migrant workers
500,000 low-skilled workers arrived between 2004 and 2007

16% of all migrants in low-skill employment come from Poland

19% of care workers and home carers are migrants
Getty
Statistically, employers could expect a minimum wage compliance visit from HMRC inspectors just once in 250 years, the report found.
And at current rates they would face prosecution for breaching labour laws only every million years.
In 2013, there were 2.1m people from abroad working in low-skilled jobs. Just over half of those were born outside the European Union.
The MAC report found that, nationally, such migrants had "not had a major impact" on pay, jobs, crime or public services and the wider UK economy over the last 20 years.
But it warned that - at a local level - in areas where migrants in low-skilled jobs were concentrated, authorities had been left "struggling to cope".
It said businesses which often could not attract British workers benefited from migrant labour.
'Beefed up'
Committee chairman Prof Sir David Metcalfe told the BBC: "If the migrant workers are getting exploited it means that the British workers are less attracted to the employers.
"The enforcement activity is simply not strong enough."
Both the Gangmasters Licensing Authority and HMRC should have their enforcement activity "beefed up", he added.
Among the other findings in the report, researchers revealed:
That low-skilled migration from the EU since 2004 has had virtually no impact on the overall employment rate of UK-born workers
Low-skilled migration has had a "small" negative impact on the wages of low-paid British workers
Migrants are concentrated in a relatively small number of areas across the country, therefore the main impact will be felt locally rather than nationally
'More to do'
Non-payment of the minimum wage and other cases of exploitation have become more "pervasive" since 2007, the report's authors said.
Horticulture and food manufacturing were highlighted among the worst offenders.
On a visit to Wisbech in Lincolnshire, the committee found that some migrants were being paid £50 a week.
A spokeswoman for the Department for Business, Innovation and Skills said minimum wage non-compliance rate was less than 0.8% for adults and penalties had been quadrupled to £20,000 per employee.
"HMRC act on every minimum wage complaint reported and last year alone found £4.65 million in back pay owed to over 22,600 workers," she added.
"We recognise there is more to do and are working across government to see what further action is needed to prevent illegal working."
Labour described the situation as "unacceptable" and pledged to tackle the "exploitation and undercutting of workers".
Shadow immigration minister David Hanson said: "The report also echoes Labour's promise to strengthen enforcement of minimum wage laws, extend the Gangmasters Licensing Authority, and ensure there are stronger controls in future if any other countries join the EU."