Al-Hilli murders 'No Alps link' in death of ex-husband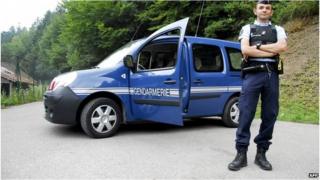 A woman killed in the French Alps almost two years ago was briefly married to a man who died on the same day as she was shot, detectives say.
Iqbal al-Hilli, from Surrey, her husband Saad, and her mother were shot dead near Annecy in September 2012.
The couple's daughters survived the attack, which remains unsolved.
Detectives confirmed Mrs al-Hilli's former husband died of a heart attack in the US on the day of the shootings. They are not connecting the deaths.
Prosecutors in France said the man, identified as James T, died in Natchez, Mississippi.
Mrs al-Hilli was briefly married to the American in 1999.
Annecy prosecutor Eric Maillaud said: "He died from a heart attack on 5 September 2012. This was confirmed by an American doctor. No link is being made with the Chevaline killings."
Mrs al-Hilli, a 47-year-old dentist, her Iraqi-born, British husband, 50, and her elderly mother Suhaila al-Allaf, who lived in Sweden, were found in their BMW. They were on a family holiday at the time of the murders.
Mr and Mrs al-Hilli's two young daughters, aged seven and four at the time, survived the attack. The older daughter, Zainab, was shot and beaten. Her sister, Zeena, was found traumatised but physically unscathed after hiding under bodies in the car.
French Cyclist Sylvain Mollier, 45, was also found shot dead.
Tip-off
It has also emerged that a 35-year-old Iraqi man was questioned in connection with the deaths in June after a tip-off from a former jail mate.
The man, identified as Mr S, was traced following claims he once told a fellow prisoner he had been offered "a large sum of money" to kill Iraqis living in the UK.
He was released after it was established he was not in France on the day of the killings and there was no evidence linking him to the family.
Mr Maillaud added: "Investigators were not able to establish that the offer was made and there was nothing to confirm that the Iraqis living in the UK were the al-Hillis. Furthermore, he was not in France on 5 September 2012."
Mr al-Hilli's brother, Zaid, was arrested on suspicion of murder in June last year but was told in January that he would face no further action.
A 48-year-old man was also arrested in February but released after investigators found no direct link between him and the killings.