What do the new airport security measures mean for you?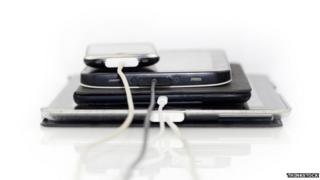 Travellers are being advised to power up electronic devices in hand luggage as part of new security measures introduced at UK airports.
The move comes as the US stepped up its airport security, although the Department for Transport (DfT) said there was "no change to the UK threat level, which remains at substantial" - the third of five possible threat levels.
So what has changed and what will it mean for passengers?
What are the new restrictions on charging devices in your hand luggage?
All passengers flying into or out of the UK will have to be able to prove electronic and electrical devices in their hand luggage are sufficiently charged to be switched on.
What gadgets are included?
The DfT guidance includes devices such as:
Phone
Tablet
Laptop
Mp3 player
Electrical shaver
Travel iron
Hairdryer
Hair-straighteners
Camera or other camera equipment
The general advice applies to anything "with a battery", so other items such as handheld games consoles and e-readers could also be checked.
What will happen if my device cannot be switched on?
The government guidelines say passengers carrying devices which they cannot switch on "face not being allowed to bring the device onto the aircraft". Passengers would then have to choose between charging the device if possible, leaving it behind (see below) or not getting on their flight.
What will happen if I leave an electronic device?
Some airlines have outlined ways customers can get their devices back. British Airways said passengers could either keep devices at airports for customers to collect or have them forwarded to another address, at the airline's expense. Virgin Atlantic has said likewise. EasyJet said it was seeking clarification from the government on the new regulations and had not, so far, issued any specific instructions to passengers.
Can I charge my device at the airport?
To avoid the risk of missing your flight or having your device taken away, make sure it is fully charged and check that the airport you are travelling from has a charging point. If for any reason you have a device with a flat battery, charging points are available near security in most airports - so if you have enough time before your flight you should be able to charge it up.
What flights are affected?
The DfT said the changes would affect "some routes into and out of the UK", but added: "For obvious reasons we will not be commenting in detail on the routes affected." All passengers flying to or from the UK are advised to charge electrical items they wish to carry as hand luggage.
Why are these measures being put in place?
The UK government is acting "in line" with advice from the US, which recently warned of a "credible" threat of terrorism. US authorities did not give specific details of this threat. The DfT would not comment on why people carrying electronic devices needed to show they could switch on. Analysts have suggested the new rules could be a response to efforts by Islamic militants in Syria and Yemen to build bombs that evade airport security checks.
How will long will the measures be in place?
This is not known. The DfT said it would "not be commenting in detail on the measures".
UK Airport security
228m
passengers on international flights to and from the UK per year
91%
people over 16 use a mobile phone in the UK
20,000 fly daily from Heathrow to the US

4,500 charging points at Heathrow

40+ UK airports fly to international destinations
Reuters
Do I need to leave more time when catching a flight?
This seems to depend on who you ask. British Airways is advising its passengers to allow extra time at various stages of their journey, from checking in to the boarding gate. But very few delays were reported when the new rules came into force, and Heathrow Airport has said passengers do not need to allow extra time in light of the new measures.
Do the previous restrictions on hand luggage still apply?
Normal hand luggage rules are still in place, including restrictions liquids and sharp objects. The DfT website has full details.