David Cameron hints at reporting abuse law change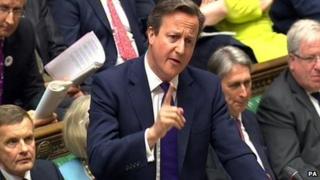 David Cameron has told MPs "it may well be time" to change the law to enforce mandatory reporting of child abuse.
It comes after the head of a review into historical allegations of child abuse urged prosecution for people who cover up such crimes.
NSPCC chief Peter Wanless also said there should be a duty on institutions such as hospitals, children's homes and boarding schools to report abuse.
Mr Cameron told the Commons the issue was already being looked at.
Mr Wanless, chief executive of the child protection charity, is heading a review looking at concerns the Home Office failed to act on allegations of child sex abuse in the 1980s.
Another independent inquiry, looking at historical sexual abuse and institutions' protection of children, will be led by retired senior judge Elizabeth Butler-Sloss.
The new inquiries into child abuse could consider possible law changes.
'Step forward'
"Should we change the law so that there is a requirement to report and make it a criminal offence not to report?" Mr Cameron said during Prime Minister's Questions.
"The government is currently looking at that and of course both reviews will be able to examine this particular point and advise us accordingly and I think it may well be time to take that sort of step forward."
Labour's Ed Miliband is supporting the call for a change in the law.
---
Historical child abuse claims: Key questions answered
Why has this come up now?
Labour MP Simon Danczuk last week called on Leon Brittan to say what the then home secretary did with documents he was passed in the 1980s containing allegations about powerful figures and paedophilia.
What happened to the files?
Lord Brittan passed them to Home Office officials and a 2013 review found the minister had acted appropriately.
What did the papers allege?
The allegations, compiled by Tory MP Geoffrey Dickens, were set to "blow the lids off" the lives of powerful child abusers, the MP's son has said. The late Mr Dickens said he planned to expose eight such figures.
Read more: Historical child abuse claims explained
---
Mr Wanless earlier told the BBC: "If someone consciously knows that there is a crime committed against a child, and does nothing about it because they put the reputation of the organisation above the safety of that child, that should be a criminal offence."
The NSPCC - which had previously opposed all forms of so-called mandatory reporting - would be open to discussions about what form the new law should take, he added.
He said boarding schools, residential care homes and hospitals should have to pass information on to the police or the local authority, rather than just investigate themselves.
'Need to be confident'
Other charities, including the National Association for People Abused in Childhood, welcomed the idea, as did Liz Dux, a lawyer with a firm that represents 176 of the late DJ Jimmy Savile's victims.
But Alan Wood, president of the Association of Directors of Children's Services, said: "I'm not sure the first step is to move towards mandatory requirement for reporting because people need to be confident that they can report effectively, people need to be confident that they're reporting the right thing."
---
Timeline: Historical child abuse claims
1982-84: Conservative MP Geoffrey Dickens says he plans to expose eight prominent figures as paedophiles. He also gives files to then Home Secretary Leon Brittan, who passes them to officials
August 2013: The Home Office says copies of Mr Dickens's material were "not retained" but that Lord Brittan acted appropriately in dealing with the allegations
7 July 2014: Lord Brittan dismisses claims he failed to act appropriately. Meanwhile, Home Secretary Theresa May announces two reviews of historical child sex abuse allegations - one into the way public bodies handled claims and the other into the Home Office's handling of paedophilia allegations
---
People can be prosecuted for covering up abuse in many other countries, including the US, Australia and France.
Last year, Sir Keir Starmer, the former director of public prosecutions for England and Wales, called for a law which would require all institutions to report allegations to an outside body.
An amendment to the Serious Crimes Bill which would make reporting of sexual abuse or physical abuse mandatory for all institutions is to be discussed later this month.