India drops arms charges against British crew of MV Seaman Guard Ohio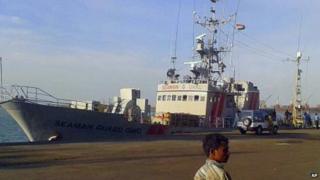 Six British former servicemen who spent months in an Indian prison have had arms charges against them dropped, the Mission to Seafarers has said.
The MV Seaman Guard Ohio crew were accused of illegally possessing weapons after they were arrested last October while working on a private US-owned ship providing anti-piracy protection.
Five of the six were bailed in April, but could not leave India.
The charity hopes all six men will be reunited with their families soon.
The Mission's director of justice and public affairs, Ken Peters, said: "Following the judgement, we hope that the crew will be reunited with their families in the next week to 10 days, and we will continue to provide any support or advice necessary."
Detention
The men were part of a 35-strong crew on board the ship when it was detained last year.
While all the charges against them have been dropped, the Ukrainian captain of the ship is still facing charges of illegal bunkering, a spokeswoman for the Mission added.
Billy Irving, from Connel, Argyll; Nick Dunn, from Ashington, Northumberland; Ray Tindall from Chester; Paul Towers from Pocklington, Yorkshire; John Armstrong from Wigton, Cumbria, and Nicholas Simpson, from Catterick, North Yorkshire, were arrested on 12 October last year.
They were held in an Indian prison between October and April, prompting their families to petition Prime Minister David Cameron for their release.
All of the men, apart from Mr Towers, were released on bail in April.
Now the charges against them have been dropped, the Mission said, paving the way for them to return to the UK.
Weapon store
They were working for AdvanFort providing anti-piracy protection in the Indian Ocean when their ship was detained.
The Indian authorities had said they had intercepted the US ship and found weapons and ammunition on board which had not been properly declared.
AdvanFort said India's coastguard and police had allowed the ship into the port to refuel and shelter from a storm. It said all weapons had been properly registered.
AdvanFort CEO Sam Farajallah said on Friday: "This has been a long waited for decision and we'd like to thank everyone who had continuous faith in us, offered support and helped us get through this challenge."
A spokesman for the Home Office said: "We are aware of reports of a court decision to quash the charges against the 6 British nationals. We are urgently seeking official clarification."