'I would fight in Syria today if I could'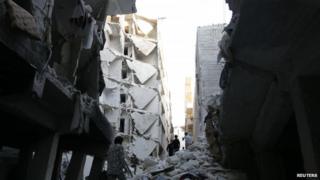 The apparent decision by teenage twins from Manchester to travel to Syria has raised concerns about the role of British women in the conflict. Today programme reporter Sima Kotecha has spoken to a number of Muslim women in Luton about their desire to be involved.
She has a petite frame and her body is covered by a black burka.
She is outside the town's Islamic Centre waiting for a friend so they can go inside to pray.
Asked about the conflict in Syria between rebels and the government of Bashar al-Assad, she explains, without hesitation: "I would go today if I could - whether to help or fight to help my brothers and sisters, inshallah [God willing]."
The woman is 20 and comes across as strong, intelligent and articulate, and refuses to give her name. But she is clear about why she would fight.
She says Muslims are "all one body - if one part aches, the whole body aches."
She adds: "I would definitely fight for them because what's happening to them is not all right... If I could go today, I would."
The International Centre for the Study of Radicalisation (ICSR), based in King's College London, says it is monitoring 40 women who have travelled to Syria from Europe in recent months. While most of them are from France, at least eight are thought to be British.
Melanie Smith, a research associate at the ICSR, has been investigating the flow of people going to Syria.
She says it is "clear that some of these women who have been travelling to Syria have since been married to jihadists and foreign fighters".
But she adds: "I don't believe marriage to be an important driving factor.
"These women appear to be motivated above all by the opportunity to respond to [the Isis rebel leader] Baghdadi's call for them to form an integral part of the new 'Islamic state' and to act upon their Islamic belief in the umma, or global unity among Muslims."
Ms Smith also claims a vast majority of these women go to make hijrah - a migration in search of a better life.
They want to carry out tasks for the male fighters permitted by a strict form of Islam, such as cleaning, cooking and first aid.
Few women fighters
This is in contradiction to the pictures of Muslim women holding AK-47s and dressed in combat gear that are circulating on the internet. This is apparently a rarity.
I spoke to at least two dozen Muslim women in Luton, most of whom said they would like to go to Syria to provide humanitarian aid but whose family priorities at home are making such a journey difficult.
Elizabeth Pearson, an independent academic researcher who has written about gender and Islamism, told me: "Research on British Muslim women shows they are better able to negotiate different identities and have a better sense of belonging to the UK than British Muslim men, who have been the subject of security practices which they have complained about."
In a small beauty salon, a customer explained: "If they want to go out there and support their family, well, good for them. If you can help anyone in this time of their need, whether it's bandaging them, helping them, why not? And it's for a good cause."
The case of Zahra and Salma Halane, 16-year-old twin girls from Manchester who are believed to have travelled to Syria to join the jihad, has rung alarm bells for the authorities.
More than 140 British imams have pleaded with Muslims not to go to Iraq or Syria.
But some of the young women told me: "We don't listen to old imams."
There also seems to be some confusion among many of the Luton women about the politics surrounding the fighting.
Some seem confused with the idea that, by "helping Muslims", they might be in conflict with others of the same faith.
Their belief and commitment is based on supporting their fellow religionists. But whether they are government forces or rebels is something they are unclear on.
When they are challenged about whether they are prepared to risk criminalising themselves with the UK authorities by going to Syria or Iraq, most of the women said they were unaware of government warnings and one woman said she would not return anyway.
"I didn't know I would be criminalising myself if I did fight. I don't really want to talk about that side of it because I don't know too much about it. I don't understand that side - but I wouldn't come back because it's dangerous out there," she said.
'Potentially an offence'
Up to 500 British jihadists are thought to have travelled to Syria to fight, but the ICSR says it is difficult to monitor how many are coming back. There has been much debate about whether those who do return pose a threat.
Guidance from the Home Office is clear: "Our priority is to dissuade people from travelling to areas of conflict in the first place."
It adds: "The best way to help Syrians is to donate or volunteer with UK-registered charities that have ongoing relief operations - not to travel."
The Crown Prosecution Service said: "The CPS applies anti-terrorism laws as set out by Parliament in legislation. Becoming involved in terrorist training abroad or fighting in a conflict abroad is potentially an offence under that law. Each case is considered on its own merits and prosecutions are only brought where there is sufficient evidence to do so and where the public interest requires action."
But it adds: "It would, of course, not be considered a crime to become involved in humanitarian work, for example in providing medical assistance."
Talking to these young Muslim women illustrates the government's problem: its message is not getting across to everyone and a reliance on community leaders and imams to get that message through appears to be failing.
Hear Sima Kotecha's report on BBC Radio 4's Today programme on Tuesday, 15 July, between 0600 and 0900 BST.