Mother's bid for inquiry into soldier's death denied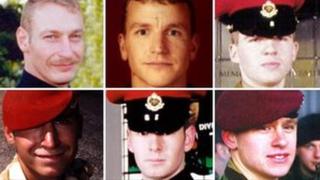 The mother of a British army corporal who was killed by an armed mob in Iraq has lost a High Court bid for an independent inquiry into his death.
Judges found she did not have a "right in law" to another investigation.
Cpl Paul Long, 24, was killed in Iraq on 24 June 2003 along with five Royal Military Police colleagues when a 400-strong mob descended on a police station in Majar al-Kabir.
Patricia Long said her son's inquest had failed to address mistakes.
Michael Fordham QC, who was acting on behalf of Mrs Long, who is from Hebburn in Tyne and Wear, said no answers had so far been given for how mistakes came about, and who was responsible for them, and therefore a further inquiry was needed.
He said the six Red Caps had been sent to the police station without an Iridium satellite phone, which might have enabled them to call for help.
He also said there had been a clear order that all patrols should be equipped with the phone.
But in denying Mrs Long's bid, High Court judges said all they could deliberate on was whether Mrs Long was owed a "right in law" to have another investigation.
They said: "We find she does not have such a right.
"We have held that the right of a soldier under Article 2 of the European Convention of Human Rights to have his life protected by law does not include a right to be safeguarded from human error, including negligent error, in the conduct of military operations which result in the risk of death on active service being greater than it would otherwise have been."
Corporals Russell Aston, 30, and Simon Miller, 21, and Lance Corporals Benjamin Hyde, 23, and Tom Keys, 20, also died in the incident, along with Sgt Simon Hamilton-Jewell, 41.
An MoD spokesman said "lessons had been learned" and the circumstances of the deaths had been "investigated extensively".
"The High Court has today ruled that there is no obligation on the MoD to further investigate the incident, and we are pleased with that judgement," he said.