Asylum seeker benefits fraud 'not being tackled'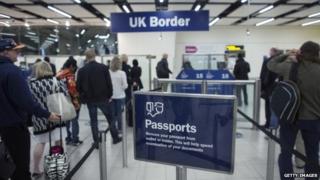 The Home Office has come under fire for failing to stop asylum seekers fraudulently claiming benefits.
In a scathing report, Independent Chief Inspector of Borders and Immigration John Vine said there was "no evidence" of an effective strategy to fight fraud in the £155m asylum support system.
He said insufficient resources also meant that opportunities to find and deter those planning fraud were lost.
The Home Office has insisted work has already begun to improve these areas.
It said its efforts would help streamline the asylum process across the country.
The Home Office also accepted 11 recommendations made in the report and pledged to implement them.
'Far too low'
People applying for asylum in the UK are entitled to housing and financial support of at least £36 a week. Those whose asylum claims have been refused are also eligible for short-term benefits.
In total, almost 27,000 people received support last year.
However, the report found that only six people were successfully prosecuted in the UK in 2012/13 for fraud offences in this area and that only £5,673 was recovered.
Mr Vine said these figures were "far too low".
"I found no evidence that the Home Office had an effective strategy to identify and tackle fraud in the asylum support system," he said.
"Work had not been undertaken to determine what its exposure to fraud risk was.
"No attempt had been made to ensure that fraud and compliance teams operated in a consistent manner and there were insufficient resources dedicated to this work.
"This meant that opportunities to identify and deter those wishing to commit fraud were lost."
The report said the Home Office's UK Visas and Immigration (UKVI) failed to follow its own policy of reviewing support cases to determine whether recipients were still eligible.
More than half had not been reviewed regularly, it found.
The report also said the UKVI failed to establish "an effective counter-fraud regime" and had not determined the "scale and nature" of risks posed by fraud.
'Haphazard'
Resource management was therefore "haphazard" and regional teams worked autonomously without any central guidance.
The report said this led to them failing to operate in a consistent manner, setting their own performance targets and not being suitably trained to do investigative work.
In a statement, the Home Office said it was "committed to providing accommodation and support to those who would otherwise be destitute while claims are considered".
"UKVI's security objective is to detect and deter threats and identify, protect and support victims as part of a zero tolerance approach to immigration abuse," it said.
It added that it was pleased with the positive findings in the report, which included remarks that staff working at an asylum screening unit were "committed to safeguarding vulnerable individuals and made a concerted effort to ensure that those requiring immediate access to the support system were given priority".