Sexual offences recorded by police 'up 20%'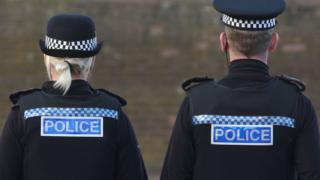 Sexual offences recorded by police in England and Wales increased by 20% in the year to March, newly released figures show.
Analysts attributed some of the rise to a greater willingness on the part of victims to come forward in the wake of the Jimmy Savile scandal.
The spike comes after intense scrutiny of how police record crimes.
Meanwhile, separate figures indicated offending rates fell by 14% to their lowest level since 1981.
That drop was recorded by the Crime Survey for England and Wales (CSEW), which estimates crime levels based on how many people say they have been a victim of crime and includes offences not reported to the police.
'Yewtree effect'
In the 12 months to the end of March 2014, police recorded 64,000 sexual offences, while the figures showed rape had risen by 27%, the highest level for more than 10 years.
Other types of sex crime were up by 17% in the covered period.
But, according to the police figures, there was no change in the level of overall crime between April 2013 and March 2014.
It is the first time recorded crime has remained static since 2002-03.
---
---
Mark Bangs, from the ONS, said: "Part of the rise in sexual offences is related to the effect of the Operation Yewtree investigation, which has brought to light a large number of historic sexual offences.
"The increase is also likely to reflect a broader Yewtree effect, whereby more victims are coming forward to report sexual offences to the police."
The Victim Support charity said it was supporting hundreds of people who had come forward to report historic sexual abuse.
"We know how much courage it takes them to come forward, so it is encouraging to see an apparent rise in confidence in people reporting this appalling crime," assistant chief executive Adam Pemberton said.
"However, it is critical that more of the right kind of support is put in place to help these victims cope and recover from their ordeal, particularly when they give evidence against their abusers in court."
'Less for police to do'
The victims' charity also said the figures suggested an "alarming" failure to solve serious crimes.
The police data, from 28 forces in England and Wales excluding the Met, showed that in April and May this year more than half of crimes were classed as "investigation complete, no suspect identified", effectively closing the case pending any new evidence.
The Home Office stressed that investigations could be reopened, but the figures showed this happened in 73% of criminal damage and arson cases, 72% of theft cases and 56% of robbery.
---
Analysis
Danny Shaw, Home Affairs correspondent
Rape up 27%, fraud up 17%, violence up 6%. Is this a crime wave? No it is not.
These are the figures of offences reported to and recorded by police. Their methods for counting crimes have come under intense scrutiny and criticism - and as a result it is highly likely police are logging more crimes than they did a year ago, as opposed to more crimes being committed.
As for rape and other sex offences, that rise is largely due to the greater confidence of victims to come forward.
Overall, levels of police-recorded crime are stable, after years of decline - again a reflection of revised police practices. However, if they begin to edge upwards in the months leading up to the general election crime might once again become a key political issue.
---
Separately Home Office figures revealed that the number of police officers has fallen to its lowest number for 12 years.
There were 127,909 officers in 43 police forces, down 1,674 compared with a year earlier - the fifth consecutive annual fall.
The number of police civilian staff and community support officers also fell.
Home Office minister Norman Baker said he was encouraged by the figures.
"People are showing more confidence in the police and reporting more crimes that they hereto weren't reporting," he told BBC News.
He also suggested there were less demands on police as a result of the fall in crime, adding: "Crime goes down year on year so, in that sense, there is less for the police to do.
"If crime is going down year on year… clearly that has an impact on the number of police officers you need on the street."
The police figures show deaths by dangerous driving rose to 282 offences from 174 the previous year,
Violence was up 6%, by around 33,000 offences.
However, the Crime Survey showed a different picture, with 1.3 million violent incidents in the period covered, a drop of 20%.