Home secretary pledges 'relentless' search for child abusers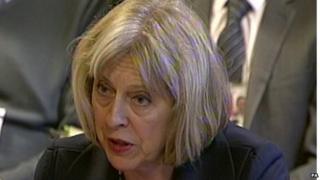 There is "a relentless commitment" to track down paedophiles and online child abusers, Home Secretary Theresa May has promised MPs.
She was responding to Labour questions in the Commons about police resources for tackling such offenders.
Earlier this week, it was revealed that more than 650 suspected paedophiles had been arrested.
Mrs May said she could not comment on reports the National Crime Agency had identified more than 10,000 suspects.
'More answers needed'
She told MPs: "Those are operational matters for the National Crime Agency, decisions to be taken with the various police forces that are involved."
Shadow home secretary Yvette Cooper had pressed Mrs May to indicate the scale of the problem, saying that more specific answers were needed "so that we can be confident that the child protection system is working."
"We also need to know from the Home Office how big do they think the scale of the problem actually is and do the police have sufficient resources to be able to address it," Ms Cooper said.
The Labour MP said: "Car crime may be falling, but these serious hidden crimes are going up."
Mrs May insisted that appropriate resources were being made available to police forces, including experts from the Child Exploitation and Online Protection centre (Ceop).
On Monday, retired judge Baroness Butler-Sloss stepped down as head of an inquiry into child sex abuse saying she was "not the right person" for the job.
That inquiry was set up last week to look into how historical child abuse cases were dealt with in major public institutions and what lessons can be learned.
Of the news this week that more than 650 suspected paedophiles have been arrested, the National Crime Agency said they include teachers, medical staff, ex-police officers, a social services worker and a scout leader.
More than 400 children have been protected as a result, the agency said.
Child protection experts have praised the arrests but warned they were "the tip of the iceberg".