Malaysia Airlines flight MH17: The Britons who died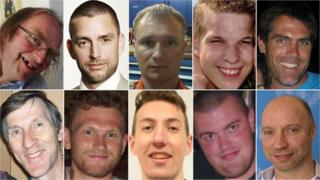 Ten Britons died when Malaysia Airlines flight MH17 crashed in Ukraine on Thursday.
The plane was on its way from Amsterdam to Kuala Lumpur when it came down in the east of the country.
All 298 passengers and crew on board are believed to have perished in the disaster. The British passengers who lost their lives were:
Robert Ayley
Dog breeder Robert Ayley, 28, was British but lived in New Zealand and was on his way there after a month-long working trip to Europe.
"Rob was our everything," his family said in a statement.
"We adored him and there was no-one else like him. He touched so many hearts and lives. We are grateful to forever have him in our hearts."
The family said Mr Ayley and his wife Sharlene were "soulmates". The couple had two sons, aged four and two.
Andrew Hoare
Andrew Hoare, 59, and his Dutch wife Estella, 51, who lived in Luxembourg, both died when the plane crashed.
Their sons Friso and Jasper, aged 12 and 14, also lost their lives.
Mr Hoare's brother Hugo said: "He was a warm, funny and wonderful man whose smile and character lit up a room. Estella was beautiful, intelligent, spoke five languages fluently and had a very infectious laugh.
"Jasper had a brilliant young mind and Friso was a talented musician and peacemaker.
"They made frequent visits to both the Netherlands and England to keep in touch with all branches of the family and friends. Family was everything to them and they will all be terribly missed."
Richard Mayne
University of Leeds student Richard Mayne, 20, was also on flight MH17.
The head teacher of his former school said Mr Mayne, originally from Leicester, had a "great thirst for life and he wanted to make the world a better place".
My Mayne had set up a JustGiving page to raise money for a charity which helps disadvantaged children in Nepal - and since his death it has received hundreds of donations.
His friend, Piers Cottee-Jones, described him as the "kindest friend I ever had". He added: "Richard always made people smile - he could make friends with anyone - I'm going to miss him."
Ben Pocock
Ben Pocock, from the Bristol area, was a student at Loughborough University and was on his way to spend six months in Australia.
His family said: "He was a gifted academic, talented athlete but more importantly a warm, caring, fun-loving son and brother who had an extremely bright future ahead of him.
"Ben is going to be terribly missed not only by his family but by the wider Keynsham community where he made so many long-lasting friends."
"Ben was an excellent student and on course to gain a first class degree," his university said in a statement. "He was also a fine athlete, who played on the university athletic union's ultimate Frisbee team and won their player of the year honour."
Stephen Anderson
Former RAF search and rescue co-ordinator Stephen Anderson was among the passengers on board MH17.
Mr Anderson, 44, attended Inverness Royal Academy between 1980 and 1986 and his RAF roles included running the search and rescue and aircraft maintenance teams at RAF Lossiemouth in Moray.
He was a technician for Maersk Drilling and had been working recently on the drilling rig Maersk Deliverer, which is off the coast of west Africa.
In a statement, the company said Mr Anderson and his wife Joanna had been together for 15 years, adding: "Stephen has left behind a beautiful daughter and a loving family."
John Allen
John Allen was on the flight with his wife Sandra and sons Christopher, Julian and Ian, who were of Dutch nationality.
He worked for international law firm NautaDutilh, which described him as a "much-loved colleague".
"All of us who had the privilege of working with John during his 18 years at NautaDutilh came to know him as a kind, down-to-earth and humorous man and many of us have also lost a friend," the company said.
"He will be dearly missed."
John Alder
John Alder was one of two Newcastle United football fans on the plane.
He and fellow fan Liam Sweeney were travelling to New Zealand to see their team play pre-season fixtures.
The club said Mr Alder was a familiar sight in the stands for almost half a century, having barely missed a game in that time.
A memorial service was held for the pair at St James' Park in Newcastle on Monday.
In New Zealand on Tuesday, Newcastle manager Alan Pardew and club captain Fabricio Coloccini placed wreaths on two seats among the club's supporters before a pre-season match.
Liam Sweeney
Like Mr Alder, Liam Sweeney was a Newcastle United football fan on his way to New Zealand.
Mr Sweeney, 28, was described as a "tremendous bloke" by his father, Barry, who added: "I wish I'd been on the flight with him, we could have had a drink together."
The grieving father described the response in Newcastle as "absolutely incredible, absolutely amazing".
"He's got a lot of great mates," he said. "He'll be having a pint in the sky with John there and they'll be looking down thinking, 'Bloody hell, me, us.'"
More than £23,000 raised by football fans in memory of Mr Sweeney and Mr Alder will go to cancer charities.
Glenn Thomas
Glenn Thomas, 49, was a media officer working for the World Health Organization (WHO).
The former BBC journalist, who was originally from Blackpool but had been living in Scotland, was described as "a wonderful person and a great professional" by the WHO.
Richard Porter, controller of BBC World News in English, said: "He was a much loved and respected colleague and the BBC World News team are reeling from this very sad news about their friend."
Mr Thomas's twin sister, Tracey Withers, said she felt "total disbelief" about his death - but said she did not have any thoughts about whoever was behind the crash.
"I'm trying to not get too involved in how I feel about what they've done because I don't want it to eat me up inside," she said.
Cameron Dalziel
Helicopter pilot Cameron Dalziel, 43, was born in Zimbabwe but was travelling on a British passport.
He had moved to Malaysia last October with his wife Reine and their sons Sheldon, 14, and four-year-old Cruz, to work for CHC Helicopter.
The Press Association reported that Mr Dalziel had been sent for training in the Netherlands and was returning home on MH17.