Sham weddings increasing at an 'alarming rate' say MPs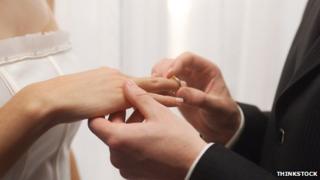 Bogus marriages have become an "industry of deceit" that is increasing at an "alarming rate", MPs have warned.
The Commons Home Affairs Select Committee questioned whether the government knew the "scale of the problem".
It called for more powers for registrars to stop suspicious weddings and better training to identify potential shams.
The Home Office said it was taking "ever tougher" action.
Residence rights
Registrars told the committee they were left presiding over what they knew to be a "charade", and one said it was "like being mocked in your own job".
The committee chairman, Labour MP Keith Vaz, said: "There is an industry of deceit in the UK which uses sham marriages to circumvent immigration control.
"The estimated 10,000 sham marriages appears to be increasing at an alarming rate. One sham marriage can provide UK residence rights to an entire extended family who would otherwise have no right to be here."
The number of suspect weddings reported to the Home Office rose from 934 in 2010 to 2,135 last year, the MPs said.
They also recommended:
More publicity for successful prosecutions
That the Home Office should write to the embassies of the countries involved, asking them to issue a warning to people not to take part
If the Home Office enforcement team does not act on a report of a suspicious wedding, a registrar should have the power to cancel it if they are "confident" it is a sham
Couples should have to prove that a "proxy wedding" carried out abroad in their absence is legal, rather than the burden of proof falling on the Home Office
'Widespread abuse'
Sham weddings often involve people from outside the European Economic Area (EEA) marrying EEA residents to secure residence rights.
Ministers introduced new measures this year to try to combat the practice, including a longer minimum period between a marriage being announced and a ceremony going ahead, and checks on church, as well as civil, marriages.
Last month John Vine, the independent chief inspector of borders and immigration, told the committee of "widespread abuse" and said officials did not know the true scale of the problem which represented "one of the biggest potential threats to immigration control".
There was an "almost complete absence of prosecution and enforcement activity" in individual cases and greater resources needed to be channelled into tackling the issue, he added.
David Hanson, Labour's shadow immigration minister, said the report exposed "another crisis at the Home Office of the home secretary's making" and said Home Secretary Theresa May had "allowed a sham marriage industry to develop on her watch".
A Home Office spokesman said: "We are taking ever tougher action, including through the new Immigration Act, to crack down on those who try to cheat our immigration system by abusing marriage laws.
"We are also focusing on cutting out the abuse of free movement between EU member states and addressing the factors that drive European immigration to Britain."