Dave Lee Travis faces retrial over assault charges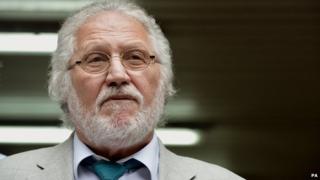 Former Radio 1 DJ Dave Lee Travis will go on trial in September over sexual abuse allegations, a judge has ruled.
Mr Travis faces a retrial on two charges - of indecent assault and sexual assault - and a new count of indecent assault.
The 69-year-old, who denies the three charges, was cleared of 12 counts of indecent assault in February.
Speaking after a hearing at Southwark Crown Court, he said he felt "very bitter" about what had happened to him.
'Damaged reputation'
Mr Travis is charged under his real name of David Griffin.
In February, jurors were unable to reach verdicts on one charge of indecent assault dating back to the early 1990s, and one of sexual assault in 2008.
He has pleaded not guilty to one additional count of indecent assault on a woman aged over 16, alleged to have taken place on 17 January 1995.
The judge, Anthony Leonard QC, adjourned the case to a trial starting on 1 September.
In a nine-minute statement outside court, that the former DJ said was being delivered against the advice of his legal team, Mr Travis told journalists he had lost respect for those in the justice system - apart from the judge and the jury at his first trial.
He said there was no such thing as innocent until proven guilty and accused the Crown Prosecution Service (CPS) of "over compensating" for its "failings" in the Jimmy Savile case, amid "hysteria" over the affair.
Mr Travis said the case had "done a lot of damage" to his reputation - damage that might be "irreparable" - and that the past 20 months since his arrest had been very stressful.
But he added: "I'm ok - I'm not about to top myself."