Leave Libya now, Foreign Office tells Britons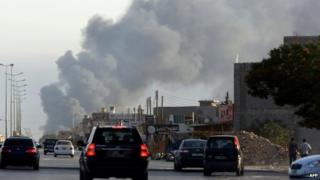 Britons should leave Libya immediately because of growing instability in the country, the Foreign Office has said.
It is advising against all travel to Libya because of the "greater intensity of fighting" and the likelihood of attacks on foreigners.
There are believed to be between 100 and 300 Britons in Libya at present.
The warning follows reports at least 36 people have been killed in clashes in the city of Benghazi - and an attempted car-jack on a British embassy convoy.
In that incident, British embassy officials said, shots were fired by unidentified gunmen at the embassy convoy in west Tripoli, but the attempted car-jacking was unsuccessful. No-one was hurt.
'Real risk'
Since late 2013, the Foreign Office said, a number of foreign nationals have been shot dead in Libya.
"Further attacks against foreigners are likely and could be opportunistic."
It said the British embassy remained open, but was operating with reduced staff, and its ability to provide consular assistance was "very limited".
It said there were several options for Britons wanting to leave Libya by commercial means.
It comes as intense fighting between pro-government forces and rival militias has also been reported near the airport in the capital city of Tripoli, killing another 23 people.
Rival militias have been fighting at Libya's main airport since last week, forcing the airport to shut.
The Egyptian news agency Mena also reported that 23 Egyptian workers were killed Saturday when a rocket hit their residence in Tripoli.
On Saturday, the US evacuated its embassy in the capital, Tripoli, citing a "real risk" because of the fighting. Turkey has also withdrawn some 700 members of staff from Libya.
The US government also warned against all travel to Libya and recommended US citizens leave the country "immediately".
Earlier this week, the UN also announced it was withdrawing all its staff from Libya.
BBC correspondent Rana Jawad, in Tripol, said Libya's central government has increasingly lost control over the country to rogue and powerful militias in the last two years.
A multitude of armed groups emerged in the aftermath of the Libyan civil war, which ended Col Muammar Gaddafi's 42-year rule in October 2011.
There are now an estimated 1,700 different armed groups including state-affiliated forces and individual militias - among them Islamist groups - operating in the country.
The government - which has no effective army - has been unable to disarm the numerous armed groups that took part in the 2011 uprising.