UK 'battle group' to take part in exercises in Poland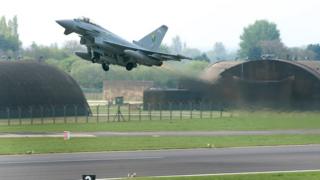 The UK is to send a "full battle group" of 1,350 military personnel for exercises in Poland, amid rising tension with Russia over Ukraine.
They will take part in Nato manoeuvres in October to support allies in Eastern Europe, Defence Secretary Michael Fallon said during a trip to Warsaw.
It is the UK's largest such commitment to the region since 2008.
Mr Fallon said Britain was playing a "central role" in responding to Russian actions in Ukraine.
Some 350 armoured and other vehicles will be involved in the October exercises, known as Black Eagle.
The UK has already sent RAF Typhoon jets to support Nato in the region following Russia's annexation of Crimea and British personnel have taken part in small-scale Army exercises.
The Black Eagle exercises will take place in addition to an already announced Nato exercise in Poland, Sabre Junction, in which UK troops will take part in August.
'Sustained support'
Mr Fallon said the October exercises would "demonstrate our commitment to the collective security of our allies in Eastern Europe... [and show] our sustained and substantial support to Nato's eastern border.
"We have a strong opportunity at the Nato summit [in September] to discuss how we will continue our response to Russia's illegal annexation of Crimea and its destabilisation of eastern Ukraine.
"The UK is playing a central role and we are not ruling out further enhancements."
Britain has previously warned the west may have to "fundamentally change" its approach to Russia after the downing of a Malaysia Airlines plane over eastern Ukraine earlier this month.
The "weight of evidence" points to the jet being shot down by a missile fired by pro-Russian separatists, Prime Minister David Cameron has said.
Heavy fighting in the region has continued since Russia annexed the Ukrainian region of Crimea in March.
Professor Michael Clarke, director general of the Royal United Services Institute think tank, said the announcement of new exercises was designed to reassure the UK's allies and send a "signal" to Russia.
"These exercises are becoming quite serious. We are not just sending a few men, we are sending a proper battle group, the basic unit of combat."
He said Russia would see the exercises as aggressive and contrary to agreements made in the 1990s not to station troops too far east.
He added: "But now what we say is you [Russia] have not behaved in the spirit of our relations in the 1990s and so what do you expect us to do? Our new Nato allies expect us to reassure them; that is what we are going to do."
Sanctions
Officials in Brussels are working on further EU sanctions against Russia, targeting access to European capital markets and trade in the defence sector and sensitive technologies.
US President Barack Obama held a conference call with Mr Cameron and other European leaders, including Germany's Chancellor Angela Merkel, French President Francois Hollande and Italian Prime Minister Matteo Renzi on Monday.
They agreed economic sanctions should be finalised when EU ambassadors meet on Tuesday.
The announcement of British involvement in the exercises in Poland comes ahead of the Nato summit in Wales in September, when international leaders will discuss how to respond to future threats.