Woman denies hiding cash in underwear for Syria fighters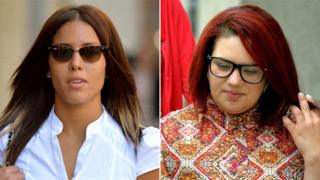 A student accused of trying to smuggle money to fighters in Syria has denied allegations she hid 20,000 euros (£16,000) in her underwear.
Nawal Msaad, 27, from north London, was stopped at London's Heathrow airport as she prepared to board a flight to Istanbul on 16 January.
She denies funding terrorism.
Giving evidence at the Old Bailey, Miss Msaad said she had hid the cash to keep it safe - but had only put it under the waist strap of her leggings.
Prosecutors told the court that when she was searched at the airport a roll of cash - made up of 500-euro banknotes - was discovered, which had been concealed in her body inside a condom.
Four 200-euro notes and two 100-euro notes were also found.
'Jihadist cause' claim
Prosecutors claim Miss Msaad was recruited by her friend, Amal El-Wahabi, to take money to Mrs El-Wahabi's husband in Syria "to support the jihadist cause".
Mrs El-Wahabi, from north London, also denies funding terrorism.
Miss Msaad told jurors on Wednesday that she had not asked where the money had come from, but believed it would be used by Mrs El-Wahabi, also 27, and her husband, Aine Davis, to set up a home in Turkey.
Asked if she felt her friend had "stitched her up", Miss Msaad said: "I do get that feeling... the feeling that I've been set up".
Miss Msaad was a first year student at London Metropolitan University at the time of her arrest.
The trial continues.