Five cities outline £15bn One North transport plan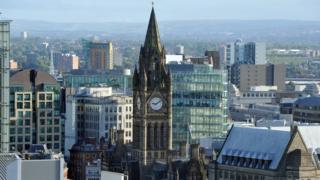 Representatives from five cities in the North of England are calling for a £15bn 15-year plan to be adopted to improve transport.
The One North report says a 125mph trans-Pennine rail link, a faster link to Newcastle and better access to Manchester Airport are needed.
It has been developed by an alliance of five cities - Leeds, Liverpool, Manchester, Newcastle and Sheffield.
George Osborne has pledged support to the "Crossrail of the North" plan.
The plan, presented at a press conference at Manchester's Beetham Tower, was described as "affordable" by the chancellor.
It comes after he called for a "northern global powerhouse" in a speech in June.
The chancellor previously said the cities in the north of England were individually strong but were "collectively not strong enough".
He said better road and rail links would allow cities across northern England to "take on the world", as London had done.
'Autumn statement centrepiece'
The chancellor said: "Of course £15 billion is a lot of money - it's about the size of the Crossrail project in London. We have got £100 billion capital budget to the end of the decade.
"I think this kind of proposal is affordable."
He added the plans would be "a centrepiece" of his autumn statement and "part of our long-term economic plan for the country".
By 2030, the report proposes:
A new tunnelled trans-Pennine route at 125mph
A fast and frequent intercity rail network joining up the cities, including a faster link to Newcastle and Manchester airports
Improving regional rail networks to allow additional capacity and electrification of existing lines
Increasing East/West rail freight capability across the Pennines
Improving road networks and access to ports
The moves would work with the existing HS2 scheme for the North
Shadow Treasury minister Shabana Mahmood said: "We welcome this report and the city regions of the North of England working together to strategically plan to deliver the growth and jobs we need.
"But only Labour will properly back our city and county regions with ambitious plans to devolve more funding and economic power to them."
Sir Richard Leese, Labour leader of Manchester City Council, said: "The current constraints on our transport networks, the product of years of neglect and under-investment, affect the competitiveness of the North.
"East-West journeys take almost twice as long as equivalent journeys in the south and our rail links are too slow and unco-uncoordinated."
Pat Richie, Newcastle City Council chief executive, said: "Ensuring that Newcastle and the North East are part of an integrated approach to transport is essential to delivering our vision for economic growth in the region."
'Better connectivity'
Speaking on BBC Radio 4's Today programme, Mayor of Liverpool Joe Anderson said the government could not forget the North if it was serious about rebalancing the economy.
He said: "When we talk about economic powerhouses, Manchester and Liverpool, if you just take those two cities in the North together, of course we are one economic powerhouse, it is just we haven't got the connectivity."
He said £350m was being invested in building a super-port which would allow freight from the east to come directly to the UK.
Mr Anderson said: "We want the capacity, the ability to ship that freight further north, east and across to Hull and the Humber."
Mick Cash, acting general secretary of the RMT union, said: "These plans are totally at odds with those outlined in the government's current consultation on Northern Rail and TransPennine Express which, far from recommending expansion, actually slash services to ribbons."
In June, the chancellor said a so-called HS3 should be considered as part of a review into the second phase of the HS2 high-speed rail project.
He said HS3 could cut the journey time between Leeds and Manchester from about 50 minutes to 30 minutes, with trains travelling at up to 140mph, compared with the current maximum of 90mph.
The plan for a high-speed rail link connecting the cities could cost up to £7bn - but could be cheaper if existing rail lines were updated, he added.