Sun reporter hacking trial hears of TV star's 'flirty texts'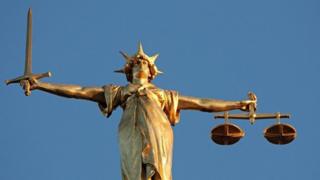 A Sun reporter obtained personal information from a stolen mobile phone belonging to a woman who received "flirty text messages" from a TV personality, a court has heard.
Ben Ashford, since suspended by the paper, denies charges of possession of criminal property and unauthorised access to material from an iPhone.
He was arrested in a police probe into computer hacking and privacy breaches.
The phone's owner and the TV star were not identified in court.
Noting down contents
On the first day of Mr Ashford's trial the Old Bailey heard that in November 2009 he was handed an iPhone that contained pictures and messages sent between a female public relations worker and a well-known male TV presenter - neither of whom can be named for legal reasons.
Mr Ashford claimed he looked at the phone, which was not locked, to verify its owner, and then returned it to that person, and left her with his business card.
But the prosecution contends that he returned it after three days - and only after noting down some of its content.
The PR worker said her phone had been in a handbag that was stolen while she was on a night out at The Circle nightclub in Manchester.
The court heard that a woman called Sameena Rashid then phoned the Sun about a potential story based on the contents of the phone, which she said was handed to her by a friend.
When Mr Ashford met Rashid, he took the phone and gave her a contract that stated that she would receive payment if her help led to the paper publishing a story. Rashid was later cautioned by police.
'A lie'
The court heard that Mr Ashford then gave the phone back to its owner via a friend - along with his business card.
Two days later, the woman contacted police to report the theft and gave them Mr Ashford's contact details.
Peter Wright QC, prosecuting, said that the reporter then lied to police when he was interviewed later as a witness to the alleged theft: "The account he gave to the police officer was, we say, a lie. It was designed to fob the police officer off and to conceal what Ben Ashford had actually done with the phone while it was in his possession."
Mr Ashford was later arrested after his employers handed over internal Sun emails.
The jury was shown a selection of those emails, in which Sun staff discussed in detail the information stored in the phone, plus a draft news story.
'Intentionally woolly'
In one email, Mr Ashford said that the phone contained "hundreds of texts" which offered "a clear snapshot on what has gone on with our sexy PR and [the celebrity]."
He said the messages contained sexually explicit messages and pictures.
In another email he referred to a "stolen phone" and admitted being "intentionally woolly" when discussing with police what he had done with it.
He wrote in the email that the police were "not really bothered about this", but also said that there was no way he "could actually copy the texts on the phone".
Mr Ashford, of Coulsdon, Surrey, is on bail. His prosecution is the first brought by the Metropolitan Police under Operation Tuleta, which is investigating illegal methods used by journalists other than phone-hacking. The trial continues.