Girl Guides get 'fresh' new uniform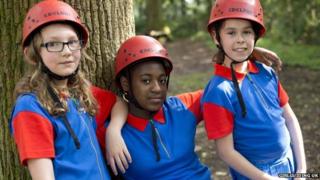 A new uniform for Guides in the UK has been unveiled - the 8th redesign in the movement's 105-year history.
The outfits include a choice of blue tops to wear with trousers, leggings, skirt, jeans or shorts, along with a smarter dress and skirt.
The range was designed by five fashion students at Arts University Bournemouth following a year-long consultation.
Chief Guide Gill Slocombe said she was "thrilled" with the "fresh, young and versatile" designs.
Girlguiding UK trustees said the new outfits - for Guides aged 10-14 - were "practical" and centred around the movement's traditional blue colouring, but with splashes of red on the sleeves and collars.
The trustees commissioned student from Arts University Bournemouth (AUB) with the task of redesigning the uniform and bringing it "up to date".
The final outfits have been unveiled after extensive consultation by the five female design students and following focus groups with Guides across the UK.
Girlguiding UK, which launched a body confidence badge this year, said it had chosen AUB because it was "committed to promoting self-confidence through fashion".
Trustees said they saw the redesign as an opportunity to give "five young women a career-changing opportunity and invest in the next generation of female designers".
"We're exceptionally proud of the young women who have taken such care over this project. We are thrilled with the designs - they're fresh, young and versatile," Ms Slocombe said.