RAF planes make second aid drop in northern Iraq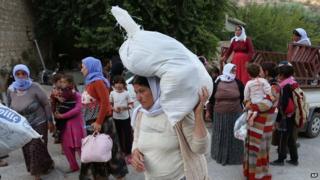 RAF planes have dropped a second round of aid to refugees trapped on a mountain in northern Iraq.
Two consignments were dropped over Mount Sinjar on Monday night, the Department for International Development said.
They come as RAF Tornado jets are being sent for possible use in aid operations to help the thousands of people who have fled from Islamist fighters.
The Tornados are expected to leave later on Tuesday.
Foreign Secretary Philip Hammond is chairing a meeting of the government's emergency Cobra committee, on the subject of the Iraq crisis.
Meanwhile, former Liberal Democrat leader Sir Menzies Campbell has added his voice to mounting calls for Parliament to be reconvened to discuss Britain's response.
"The government would be well advised to recall Parliament," he said, to share with MPs "everything that the government has done and - at the moment at least - is intending to do".
'Deeply worrying'
Supplies dropped overnight included 3,180 reusable water purification containers containing a total of 15,900 litres of clean water, and 816 solar lamps that can also be used to charge mobile phones.
The first drop took place on Saturday, delivering 1,200 water containers and 240 solar lanterns.
A further drop planned for Sunday night had to be abandoned because of fears that people could be injured by the cargo.
Islamic State (IS) fighters have seized territory across Iraq and Syria in the past few months, with continuing reports of the slaughter of Iraqi religious minority groups.
Among those reportedly being targeted by fighters are Christians and members of the Yazidi community. Thousands of Yazidi civilians are trapped in the Sinjar mountains.
International Development Secretary Justine Greening said: "The humanitarian situation in the Iraq area is deeply worrying.
"Isis terrorists continue to contest towns and villages south of Irbil and in the Sinjar area and the Yazidi community face appalling conditions, cut off on Mount Sinjar.
"UK aid is already helping the people who desperately need it."
Two Hercules C-130 cargo planes were used for the drop.
Downing Street has said the government was working closely with Iraqi, Kurdish and international representatives to "mitigate safety concerns" that led to the cancellation of Sunday's delivery.
The RAF Tornado jets are set to take off from RAF Marham in Norfolk, and could carry out surveillance to assist delivery of aid supplies.
Ms Greening has also announced that four organisations are to share the £3m earmarked by the British government for charities operating in Iraq.
Mercy Corps, Save the Children, the International Rescue Committee and Action Against Hunger will provide food, water, medical supplies, hygiene kits and sanitation facilities, with the funds being made available immediately.
The UK aid contribution for those displaced in Iraq is worth £13m in total and includes:
£2m of emergency supplies for 75,000 people, which includes the aid being dropped on Mount Sinjar
£3m of fast-tracked funding for charities and NGOs already operating in Iraq, as announced by Ms Greening
£2.5m of support for the International Committee of the Red Cross (ICRC) to provide immediate medical help
£500,000 to help coordinate relief efforts between the UN and the Kurdish authorities in northern Iraq
Meanwhile, a senior retired British general has accused the UK government of being "commitment-phobic" over the crisis, telling The Times that politicians were "terrified of any form of intervention" ahead of next year's general election.
Sir Richard Shirreff said: "What we have got is this commitment-phobic government that is terrified of being seen to be putting boots on the ground at a time when they are trying to extract from everything."
US forces have carried out four rounds of air strikes targeting IS militants near Irbil, the capital of Iraqi Kurdistan.
The US has also begun supplying weapons to the Kurdish Peshmergas, who are fighting the militants, senior US officials told the Associated Press.
Secretive group whose origins and ethnicity are subject to continuing debate
Religion incorporates elements of many faiths, including Zoroastrianism
Many Muslims and other groups view Yazidis as devil worshippers
Holiest temple is in Lalesh, northern Iraq (pictured above)
There are estimated to be around 500,000 Yazidis worldwide, most living in Iraq's Nineveh plains