Scottish independence: Is Cornwall more like Scotland than England?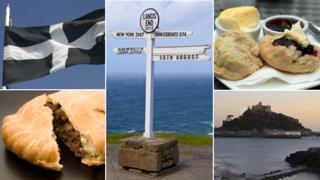 Cornwall is about as far away from Scotland as it is possible to get by land in the UK and has a vibrant nationalist identity. But does it share more with Scotland than England? And does it have a greater interest in the Scottish referendum?
The well-trodden journey from Land's End to John o'Groats, the most south-westerly point of Cornwall to the north-eastern tip of mainland Scotland, has inspired many to travel the length of Britain by car, by bike and on foot.
But the famous challenge - often signposted with a distance of 874 miles (1,407km) by road - is not the only thing that Scotland and Cornwall have in common.
Both are geographic extremities with huge stretches of coastline. Both have Celtic roots. They have their own language, traditions, culture and a distinct history of which they are proud.
And both have parties campaigning for their Celtic communities to have more political and fiscal power.
Cornwall's nationalist party Mebyon Kernow does not want Cornwall to be an independent country - which is what the Scottish National Party is campaigning for in Scotland - but it does want Cornwall to be seen as its own nation, with a legislative assembly similar to the current Scottish Parliament.
So how closely are people in Cornwall watching the Scottish referendum, when voters in Scotland will go to the polls on 18 September - answering the "Yes/No" question: "Should Scotland be an independent country?"
"Very" is the view from Dick Cole, leader of Mebyon Kernow. He believes there will be a "massive knock-on impact" for the whole debate on devolution, whatever the result.
"If Scotland votes 'Yes' the whole dynamic of the UK will totally change.
"If Scotland votes 'No' it will still get more powers. Wales' Assembly is gaining more powers every year, we've got a long-standing campaign in Cornwall, and England will want to get away from the overcentralised state that's focused on London and the South East," he says.
"It's no co-incidence that two of the worst performing economic parts of the UK - Cornwall and Wales - are the furthest from there," he adds.
It is a sentiment that resonates with Allie Watkins, who runs the Spice Merchant and World Food Specialist shop in St Austell, a town at the heart of Cornwall's china clay industry.
"Westminster seems like it's on another planet. It forces smaller rural communities into tight corners financially," she says.
The spice merchant, who comes from Hertfordshire but has been living in the Cornish town for 11 years, would love Cornwall to follow in Scotland's footsteps, by getting its own assembly and having a referendum on independence. Or it could join together with other Celtic communities, she suggests.
She is adamant that Cornwall, much of whose historic county boundary with the rest of England is the River Tamar, has a different identity to the rest of the UK. "Most people say it's a bit like a parallel universe over the Tamar Bridge [between Plymouth, in Devon, and Saltash, Cornwall]. Once you get into Cornwall the energy changes," she says.
Cornwall in numbers
£75bn value of economy (0.6% of UK)

£22,087 average annual earnings (GB £26,551)

£1.1bn average annual tourism revenue

In the worst 5% of UK areas for households at risk of poverty
Getty Images
Stroll around St Austell and it is clear that you are in Cornwall. Signs are in Cornish as well as English. There are pasty shops, butchers, bakers, cafes serving cream teas and sweet shops that all advertise themselves as "Cornish".
Any suggestion that the abundance of Cornish offerings is for the benefit of tourists are batted away by Lynn Hayley, who works at Barnecutt Bakery.
"All the locals buy pasties. Some people eat them every day. They are more of a novelty with visitors," she says. "I'm proud to be Cornish, so are most people in Cornwall," she says.
The feeling that people in Cornwall have a separate identity is not uncommon. In the 2011 census, 73,200 people out of a population of 530,000 specified that they had a Cornish national identity even though there was not a Cornish tick-box category, according to Cornwall Council.
But does this recognition of a Cornish identity translate to politics - or a desire for Cornish people to have more control over Cornish affairs?
Mebyon Kernow argues that it does. The party presented Downing Street with a petition of 50,000 signatures calling for a Cornish assembly in 2001 but it did not come to anything.
This year Cornish people were given minority status - the same protections as the Welsh, Scottish and Irish - under European rules.
And moves to revive and promote the Cornish language, which experts say is spoken fluently by about 300 people, were also given a recent, albeit moderate, boost of £120,000 government funding.
But beneath the black-and-white St Piran's flags, which fly alongside the union jacks on the High Street in St Austell, 67-year-old Eve Brewer, who has lived in the town for 40 years, is not so sure.
She agrees that most people in Cornwall are proud to be Cornish. But that does not mean they do not want to be British.
"Life is different down here, but we're still British. I don't think Cornwall should have devolved powers or be an independent country," she says.
Dominic Bateman, 18, from Bodmin, agrees. "I feel more English than Cornish. Cornwall can be a bit slow, I don't think it could stand on its own two feet."
But Jake Moffatt, also 18, who grew up in St Austell, says that although he calls himself British, he would like to refer to himself as Cornish one day. "If people are defined as Scottish, Welsh or Cornish, I think it makes people more unique."
Mr Cole concedes that Cornish identity is a hard thing to pin down. "There's great ambiguity. Some people are straightforward - Cornish full stop. Some don't see any contradiction in being British and Cornish. Others are Cornish, but English when supporting the World Cup.
"There are 100 PhD theses to be written about identity. It's a great philosophical debate," he says.
However, Louis Colwill, 82, who is a volunteer at the Old Cornwall Society and has lived in Cornwall most of his life, has an answer.
"You only have to go to a local concert and people will sing the Cornish anthem, Trelawny, which shows the togetherness of Cornish people.
"But I spent 27 years travelling the world with the Royal Navy, and although I'm very proud of St Austell and Cornwall, and I love our history, we mustn't be blinkered. Like everywhere, things are changing and becoming more multicultural. I like to say I'm cosmopolitan," he says.
He says that he - like many others in Cornwall - is "very much" keeping an eye on Scotland.
Key words in Cornish
Fatla genes?
How are you?

Yn poynt da (meur rasta)
Very well (thank you)

Yeghes da!
Cheers/Good health!
Getty Images
---
A referendum on whether Scotland should become independent is to take place
People resident in Scotland will be able to take part in the vote, answering the "Yes/No" question: "Should Scotland be an independent country?"
The referendum will take place on Thursday, 18 September, 2014
Go to the BBC's Scotland Decides page for analysis, background and explainers on the independence debate