Operation Elveden: Two face court over misconduct charges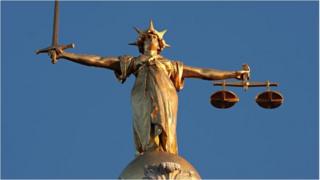 A former journalist from the News of the World and a soldier are being prosecuted for conspiracy to commit misconduct in public office.
Ryan Sabey, who is now at the Sun, and Paul Brunt, who was a soldier at the time of the alleged crime in 2006, are being prosecuted as part of Operation Elveden.
Mr Brunt has been charged and Mr Sabey has been summonsed to court.
Both men will appear at Westminster Magistrates' Court on 21 August.
The allegations relate to a period between 1 April 2006 and 1 November 2007.
Scotland Yard passed a file of evidence to the CPS in February and submitted further evidence in June.
The Operation Elveden probe, set up to investigate corrupt payments, is being run alongside two other police inquiries.
Operation Weeting is investigating alleged phone hacking, and Operation Tuleta is examining claims of computer hacking and other privacy breaches.