Operation Elveden: Two reporters and soldier in court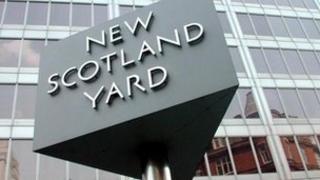 Two journalists and a soldier have appeared in court accused of conspiring to commit misconduct in public office.
The Sun's crime reporter, Anthony France, faces two counts, one of which alleges he conspired with a police officer.
Separately, his colleague at the paper Ryan Sabey and former soldier Paul Brunt appeared accused of conspiring together between 2006 and 2007.
The three men were granted bail at Westminster Magistrates' Court.
They were ordered to attend the Old Bailey for preliminary hearings on 8 September.
The charges against the men were brought under Operation Elveden, set up to investigate allegations of corrupt payments.
The operation is being run alongside two other police inquiries. Operation Weeting is investigating alleged phone hacking, and Operation Tuleta is examining claims of computer hacking and other privacy breaches.
Mr France, 41, from Hertfordshire, is accused of conspiring with police officer Timothy Edwards to commit misconduct in public office between 31 March 2008 and 1 July 2011.
A second charge alleges that he conspired with others to commit misconduct between 19 July and 14 August 2009.
Mr Sabey previously worked for the now defunct News of the World tabloid. He appeared separately from Mr France, along with Mr Brunt.