Student admits taking distress flares on Stansted plane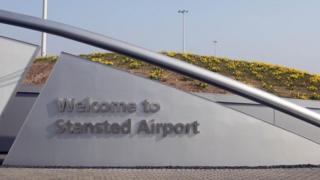 A UK university student has admitted taking nine distress flares on to a passenger jet at Stansted Airport.
Greek Cypriot Andreas Pierides, 22, also pleaded guilty at the Old Bailey to possessing a terrorist manual.
Police found the box of flares in Pierides' luggage after arresting him as he was about to board a flight.
Mr Justice Sweeney warned the Southampton University business student he could be jailed when sentenced later this year.
Pierides was returning to Cyprus after finishing the first year of his degree when he was stopped.
Flares returned
He had first come to the attention of police in January when a member of the public saw him reading an electronic publication on a train which appeared to include bomb-making instructions.
She was so concerned at what she saw that she took photographs of Pierides and passed them to police, the court heard.
When officers identified him they discovered he had left his student accommodation and was due to fly home on May 15.
His baggage was retrieved from the hold and searched and officers found the box of personal distress mini flares inside. Each contained 5g of explosive material.
Later that day Pierides was charged with possessing the terrorist manual but due to a misunderstanding, the flares were returned to him.
Five days later, police attended his bail address in Finchley, north London, and retrieved the flares, although one was missing, and arrested him for taking them onto the plane.
'Stupid and naive'
Pierides admitted a charge under the 2000 Terrorism Act, of possessing an electronic version of the Anarchist Cookbook, and a further charge of having a dangerous article in an airport.
He told police he had bought the flares to use with a sea scooter which he owned at home in Cyprus. He added that he had downloaded the manual out of "curiosity".
Prosecutor Alex Chalk said the flares were packed in a compact box and would only have exploded if there had been an external fire.
He told the court it was accepted that the defendant had been "stupid and naive" and did not associate with terrorists.
Mr Chalk added that it was not illegal to have flares in his native country but that ignorance of British law was "immaterial".
The judge adjourned sentencing, pending reports, until 27 October.
He told the court "this is a case that, on the face of it, crosses the custody threshold."