Countering the call to British Muslims to jihad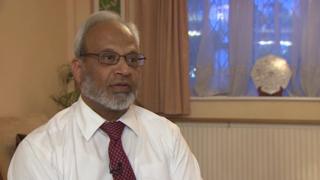 The Muslim Council of Britain has called on British Muslims to play their part in countering radicalisation and reject the barbarity of Islamic State militants.
The secretary general of the council, Dr Shuja Shafi, said British Muslims were "horrified at the abhorrent murder" of US journalist James Foley and urged them to report any wrongdoing to the police.
The statement came as the hunt went on in the UK for those who killed Mr Foley and uploaded footage of the murder earlier this week.
The man who may have killed him is thought to be British, perhaps with family and friends here.
Dr Shafi told the BBC: "There is nothing Islamic about it [the killing] and we roundly condemn it.
"It's our duty to make sure that any one of us who has seen or witnessed or is knowledgeable about any wrongdoing must report it to the police, or organisations like Crimestoppers."
He added that everyone must play a part - whether parents, communities, imams, religious leaders or governments - in addressing what was going wrong for some of the young.
"We have got to see what it is that has lured these individuals and young people into criminal activity like this. We have to understand why this 'jihadi cool' culture seems to lure them, and make sure this does not persuade them, and ensure they are engaged with society and understand this is wrong," he says.
Social media
Already, at least 500 British Muslims have travelled to Iraq or Syria to support Islamist extremists, many joining the fighters of Islamic State.
Some are as young as 16; the oldest known to have done so is 42. Others estimate the figures could be three times as high.
Some of the Islamic State recruits are active on social media, and keen to recruit others.
In east London, we met one British convert to Islam who says he can understand why they go.
Abu Rumaysah is careful to stay within the law, but what he says still has the power to shock after the violence meted out by Islamic State.
"The caliphate is something that is in the heart of every single practising Muslim, so I'm not surprised that many Muslims would wish to migrate there," he tells me.
"There is not a single country in the world - whether it's Saudi or Pakistan - that implements Islam fully.
"So now we've got this caliphate, people are going to flock there, and leave the insecurity they're facing in many Muslim countries as well as the West, and live there peacefully under the sharia [Islamic law]."
At Friday prayers, Islamic State's radical message was countered by some British imams in places such as the East London mosque.
The government's strategy to prevent extremism is supposed to work by engaging the most vulnerable within their communities before they are radicalised.
Peer pressure
However, some now say that more needs to be done within the Muslim community itself to stop other young people being lured from the UK to fight abroad.
Omar Mehtab is a post-graduate student in London, who believes it is up to all British Muslims to act - and not stay silent.
He says he and his peers frequently discuss what is happening and what practising Islam really means to them.
"I'm disappointed in our own community because there are some who would rather just sweep the problems under the carpet," he says.
"Many Muslims would just like to practise their religion quietly, and get on with their own peaceful interpretation.
"But that silence can help beget the evil that exists out there, and the community needs to take action," he believes.
"Some young people don't research further for themselves but go to certain extremists who give them their message. With me and my peers there's lots of discussion, and with open discussion comes a thirst for knowledge about what's going on.
"But some youngsters who are not too knowledgeable will listen to other voices - and can be picked up by the wrong people and exposed to the minority who want violence. They can be brainwashed and then go over there and commit some heinous acts."
Ultimately, some are beginning to conclude that if it can be mobilised, peer pressure - rather than government action - may yet prove the most effective weapon in countering the radical message of a group skilled at reaching out to the young and the disaffected.