Churchill rejected Lord Kitchener's WW1 ammunition plea, letter reveals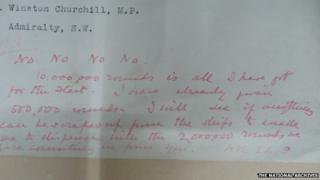 Army chief Lord Kitchener made a desperate plea to Winston Churchill for ammunition at the start of World War One, a newly unearthed letter reveals.
The exchange found in the National Archives is said to show how unprepared for war Britain was 100 years ago.
It also highlights a tense relationship between Kitchener and Churchill, then First Lord of the Admiralty.
Churchill had 10 million rounds at his disposal but rejected the request with a reply of "No, no, no, no..."
The exchange was found by military genealogy website Forces War Records in the National Archives at Kew.
Secretary of State for War Lord Kitchener was overseeing the British Expeditionary Force being overwhelmed by the German army in Belgium at the time.
British and Belgian forces were trying to delay the Germans from breaking into France. But as they were pushed back to Antwerp, Kitchener - famed for featuring on WW1 recruitment posters with the slogan "Your Country Needs You" - wrote to the future prime minister on 27 August requesting help.
"My dear Churchill. As we are keeping Antwerp going with ammunition, please give any you can spare from your ships to us," he wrote in the letter from the War Office.
"I think you said 10 million rounds would be available. It makes me shudder to think of troops without ammunition."
"May I send an officer to the Admiralty to talk to your people about this and take over your contribution to Antwerp?"
Churchill, appointed to his post in Asquith's government in 1911, wrote a reply in red ink on the bottom of the letter for his secretary to write up.
"No, no, no, no. 10,000,000 rounds is all I have got for the fleet. I have already given 500,000 rounds," he said.
"I will see if anything can be scraped up from the ships to enable me to dispense with the 2,000,000 rounds we were counting on from you!"
Forces War Records suggests Churchill may have let his dislike for Kitchener influence his sentiments but says the actual letter his secretary sent to Kitchener would been "more subtle".
Tim Hayhoe, from Forces War Records, said: "The letter was written during the very early stages of the war but it shows that the British army was in dire straits at the time and had a lack of resources, particularly ammunition.
"We weren't very well prepared at all and sent around 240,000 men to Belgium but it was a token force compared to the Germans who outnumbered the British and Belgians by five to one. There was chaos and confusion and shock as the Germans steamed across Belgium.
"Yet here are the head of the army and the head of the navy apparently arguing over their allocation of ammunition, not only that but they seem confused as to who was supplying who."
The pair are said to have earlier clashed while Churchill was a war correspondent during the Boer War.
"Kitchener, who regarded Churchill as a bit of an up-start, has written a fairly worded letter and that has been rebuffed by Churchill who is clearly sticking to his guns," said Mr Hayhoe.
"There is no love lost between the two of them."
---
World War One 1914-1918
World War One was a truly global conflict. The war was fought in Europe, the Middle East, Africa and Asia. Around 17 million soldiers and civilians were killed between 1914 and 1918.
Britain declared war on Germany on 4 August 1914. In 1916, conscription was introduced for the first time. As millions of men left for the front, women filled their roles in factories, shops and offices across the country.
On the Western Front the opposing armies were trapped in a stalemate. Many lives were lost fighting over just a few miles of of land. The Battle of the Somme was one of the largest of WW1 and nearly 20,000 British soldiers died on the first day.
WW1 saw advancements in medicine and technology - the invention of plastic surgery, innovations in flight, and new treatments for mental health.
---