Dubious compensation offered by UK companies revealed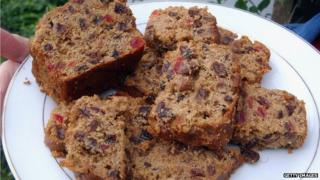 A book of vouchers only redeemable in the US and a year's supply of fruit cake were two forms of compensation provided to customers by UK companies.
A survey for online complaints service Resolver found one unhappy consumer was sent a book of stamps while another was offered a free meerkat adoption.
One diner was awarded a free restaurant meal after suffering food poisoning.
The survey asked customers to name the most bizarre or strange compensation offered in response to a complaint.
YouGov, who carried out the poll, surveyed 2,341 adults online between 25 July and 28 July.
One consumer reported being offered £2.48 for losing his internet service for a month while one was sent a Cadbury's Creme Egg.
One customer received a bottle of fermenting orange juice, which was out of date and another was given a box of condoms after complaining one had broken.
Resolver founder James Walker said: "What this shows is that companies are not taking the consumer seriously.
"Complaining should be more prevalent and I urge consumers to seek redress if they experience poor customer service.
"We want companies to take compensation more seriously and hope that our service will highlight the good and the bad practices that are out there."