Iraq crisis: RAF planes help in Amerli food drop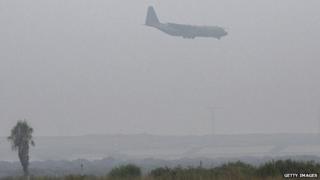 RAF Hercules transport planes have taken part in a humanitarian aid air drop for residents of Amerli in Iraq.
It was part of an international effort to resupply the town which has been under siege by Islamic State (IS) militants for nearly two months.
It was supported by US air strikes against IS targets near the town, which has now been entered by Iraqi troops.
Defence Secretary Michael Fallon said there had been no request for the UK to take part in military action.
"We have not been asked to participate either in sending troops on the ground or in joining in air strikes," he told Sky News.
Minorities threatened
"But let me be clear what we have been doing. We have been putting in humanitarian aid and I can confirm that I authorised two Hercules to participate in the big aid drop on Amerli.
"The RAF dropped 14 tonnes of food and water there for a Shia population that's been completely besieged."
France, Australia and the US also took part in the air drops with the RAF planes flying in from Akrotiri in Cyprus.
The military operation to reach the town, described as the biggest against IS since the extremists started making major gains in June, began on Saturday when an alliance of Iraqi government forces, Shia militias and Kurdish Peshmerga attacked IS positions.
The population of Amerli includes about 15,000 minority Shia Turkmen although the BBC's correspondent, Jim Muir, in northern Iraq says only about 2,500 may still be in the town.
IS is an extremist Sunni Muslim group, which condemns others, including minorities and Shia Muslims, as heretics.
It has seized swathes of territory across Syria and Iraq in the past few months.