UK anti-semitic incidents peaked in July, Jewish charity says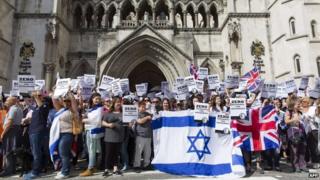 A charity set up to protect Britain's Jewish community has recorded its highest-ever monthly total of anti-semitic incidents.
The Community Security Trust (CST) said it was aware of 302 such events in July, compared to 59 in July 2013.
It described the cases as "reactions to this summer's conflict between Israel and Hamas" in Gaza.
A third of July's incidents involved "language or imagery relating to the Holocaust", CST added.
The charity has also recorded about 150 anti-semitic incidents in August - making it the third-highest monthly total on record - with more reports still expected.
Hitler hashtag
The July incidents ranged from abusive letters sent to British synagogues to threats, graffiti and damage to property.
There were also 21 violent assaults, though no-one was seriously injured.
CST, which has recorded such incidents in the UK since 1984, said 179 of July's cases took place in Greater London and 52 happened in Greater Manchester.
A quarter of them concerned entries on social media, where the CST said some abusers used the hashtag #HitlerWasRight.
The trust included a description of the alleged offender in 107 of the 302 July reports.
Of these, 55 were described as being of south Asian appearance, 32 as white, 15 as of Arab or north African appearance and five were described as black.
CST spokesman Mark Gardner said the figures helped explain the "pressures felt by so many British Jews this summer, with its combination of anti-Jewish hatred and anti-Israel hatred".
Protesters gathered outside the Royal Courts of Justice in London on Sunday to demand "zero tolerance for anti-semitism".
Israel launched Operation Protective Edge in Gaza in July, saying it aimed to stop rocket attacks against Israel by Palestinian militant group Hamas.
Since then, there have been repeated Israeli air strikes and thousands of rockets have been fired by Hamas.
The Palestinian Ministry of Health says more than 2,100 people have been killed in Gaza, while more than 70 Israelis have died.