British researchers 'missing' in Qatar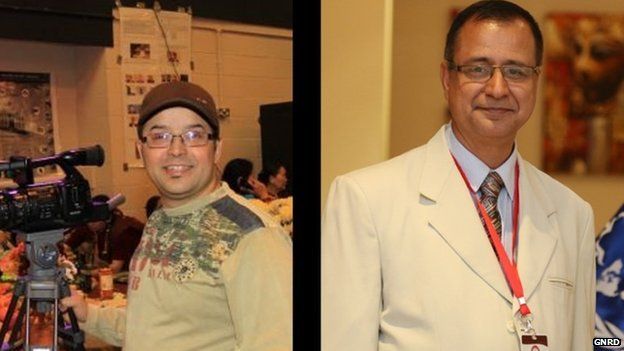 The UK Foreign Office is looking into reports that two British men in Qatar who were investigating the treatment of migrant workers have gone missing.
Krishna Upadhyaya, 52, and Gundev Ghimire, 36, have not been heard from since Sunday, the organisation they were working for said.
The Global Network for Rights and Development (GNRD) said it suspected the men had been detained.
But it said Qatari authorities had denied having any information.
The men, both of Nepalese origin, had been in Qatar since 27 August, GNRD, a Norway-based non-governmental organisation, said.
Mr Upadhyaya, a researcher, and photographer Mr Ghimire had been conducting research for a report on human rights in the country, which will host the World Cup in 2022.
Qatar has faced criticised over the conditions migrants are working in ahead of the football tournament.
Mr Upadhyaya sent a text message to a friend in Norway on Saturday claiming the pair were being followed by the police, GNRD said.
The men were due to leave the country the following day, but the human rights organisation said it had not heard from them.
GNRD said the British embassy in Doha had told it Mr Upadhyaya had checked out of his hotel, but did not board his flight to Norway.
In a statement, GNRD said both it and the men's families had made "repeated efforts" to find out where the men were.
"GNRD is deeply concerned that these employees, both British citizens, may have been subjected to enforced disappearance," the organisation said in a statement.
Evgenia Kondrakhina, chief executive manager of GNRD, said her organisation contacted the Qatari authorities and they denied having any information.
The BBC has also tried to contact the Qatari authorities but has yet to receive any response.
A UK Foreign Office spokesman said: "We are aware of the reports of two British nationals missing in Qatar and we are looking into them."
The National Human Rights Commission for Qatar has also promised to look into the case, GNRD said.
Human rights groups have accused the authorities of employing foreign workers in "slave-like" conditions ahead of the tournament.
Some have been left stranded, working for as little as $0.85 a day (50p), reports in the UK have said.
In May, Qatar vowed to improve the rights of migrants in the Gulf state amid growing alarm at their treatment.
Related Internet Links
The BBC is not responsible for the content of external sites.