Dave Lee Travis 'was a sexual opportunist', retrial hears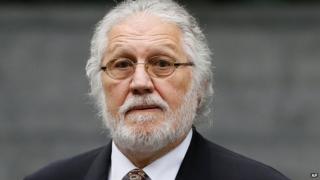 Dave Lee Travis was an opportunist who groped vulnerable women and those who were alone, a jury has heard.
The former Radio 1 DJ is being retried on two counts - one of indecent assault and one of sexual assault - and faces a further charge of indecent assault.
Outlining the prosecution case against the 69-year-old at Southwark Crown Court, Miranda Moore QC said Mr Travis "seemed to act as if he had a perfect right" to grope women.
Mr Travis denies all of the charges.
In a trial earlier this year, a jury was unable to reach a verdict on the first two charges, which are said to have taken place in 1991 and 2008 respectively.
The third charge relates to an indecent assault alleged to have taken place in January 1995. Mr Travis, who is charged under his real name of David Griffin, was arrested in October 2012.
'Exploited'
The prosecutor said: "The offences that you are going to consider vary in seriousness. They involved unwanted physical contact over and under clothing.
"He has a propensity towards laying his hands in a sexual manner on young women who are alone with him or in vulnerable positions. He is an opportunist."
Ms Moore added: "The defendant, according to these ladies, simply seemed to act as if he had a perfect right to touch their breasts or put his hands in their clothing to grope them."
She said the women felt "upset, embarrassed, shocked" and unsure what to do because Mr Travis was a celebrity.
The first alleged victim to give evidence was a journalist who claimed the DJ groped her breasts in his kitchen after she interviewed him at his home, leaving her feeling "exploited".
In court
By Ben Geoghegan, BBC News
Dave Lee Travis sits close to the centre of the dock of courtroom one. The dock officer is behind him and to the left some distance away. The former DJ sometimes wears headphones so that he can hear what's being said in this, the second trial he's faced this year.
Dressed in a blue blazer and wearing a red-patterned tie, Mr Travis pushes himself into his chair so that he is almost leaning backwards. Before the prosecuting QC begins her opening speech, the judge warns the jury that Mr Griffin (Mr Travis's real name) may, from time to time, get up and walk around.
The judge has given him permission to do that. It helps with his bad back.
'Blurted out'
She said the DJ showed her a photograph of a woman in a bikini and offered to take a similar picture of her, telling the woman she had a "good figure".
Having dismissed the offer once, when Mr Travis asked her again she said she felt she had to give a "bigger justification" as to why she did not want such a photograph.
"I just blurted out, thinking it would put him off, 'Well I don't think I have big enough boobs,'" the witness said. "There was a split second and then he put his hands out and put them on my breasts."
She said he touched her for several seconds and then acted like nothing had happened.
'Never said sorry'
During cross-examination by Mr Travis's barrister Stephen Vullo QC, she outlined exactly how long Mr Travis had allegedly touched her for, saying: "It was a deliberate hands-on, one, two, three, four, pull away."
The woman told the jury: "He never said sorry, he didn't look embarrassed about what he had done and he was still relatively talkative even though he was a bit quieter."
Mr Travis drove her from his home to a local station so she could catch a train home, she said. As the train departed, the woman said: "The enormity of what had happened hit me and I suddenly felt very depressed and very lonely and exploited."
She later told her flatmates and her mother about the alleged incident but did not inform police at the time, the court heard.
The woman, who gave evidence from behind a curtain, said she might have gone to the police immediately if it had been "more serious" and that she had not considered there could be further alleged victims.
When Mr Vullo asked the woman if she had exaggerated her claims, she replied: "I have absolutely not exaggerated, I am only telling the truth."
One of the woman's then flatmates told the court her friend was "upset and a bit angry" when she returned home from the interview.
The alleged victim's mother also gave evidence, saying her daughter asked for advice after the interview and that she sounded "very upset" at the time. She said she had been "adamant" her daughter should not tell her employers, fearing there would be concern about her ability to do her job.
When they discussed the matter a few years later, her daughter, who had since changed jobs, wanted to go to the police and her mother said she "fully supported" that decision.
Aladdin assault claim
The other two charges relate to a woman who claims the DJ assaulted her when they were both working on a production of Aladdin and a woman who was working on the BBC's Mrs Merton Show when he appeared as a guest.
The woman working on the pantomime alleges Mr Travis put his hand inside her trousers while they were alone in his dressing room.
She said Mr Travis was holding the door closed but she managed to prise it open and when she left the room, she saw that comedy duo the Chuckle Brothers were stood in the corridor. She says she later told co-workers what had happened.
The other alleged victim said Mr Travis approached her in the corridor, where she was smoking, and made a comment about her "poor little lungs" before placing his hands on her chest for about 10 to 15 seconds. She also told a colleague and said she was "mildly hysterical" at the time.
The prosecutor also outlined claims from two other women, which do not form part of the trial indictment.
One woman claimed she was assaulted by Mr Travis as she served him drinks at a venue on the Isle of Man. Another woman, also a journalist, claimed that Mr Travis assaulted her while she was at his house to interview him.
A jury of six men and six women was sworn in for the retrial earlier this week.
Trial judge Anthony Leonard QC told them that while a jury would not ordinarily be told a defendant had already faced a trial, it was "sensible" to do so in this case as it was likely some jurors would remember the earlier hearing.
The case has been adjourned until Monday morning.