Cable theft delays on railways fall sharply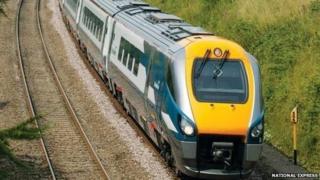 A sharp fall in railway cable thefts has led to an equally sharp fall in delays, according to Network Rail.
In 2010-11, there were 995 cable thefts on British railways, causing more than 1,000 minutes of delays each day.
By 2013-14, there were 179 cable thefts, causing around 190 minutes of delays each day - a fall of 80% on both counts.
The government said a change in law, which made it harder to sell stolen metal, had been "absolutely crucial".
The Scrap Metal Dealers Act 2013 required all dealers to be licensed, and gave the police and councils more power to inspect their premises.
The act also required sellers to produce identification and proof of address.
A fall in the price of copper wire - which is used for power and signalling on the railways - may also have played a part.
The price of scrap copper wire peaked at £4,400 a tonne in 2011, thanks partly to surging demand for copper in China.
The price has since fallen to around £3,000 per tonne.
Cable thefts on the railways, 2009-14
Year
Incidents
Delays in minutes
2009-10
656
321,570
2010-11
995
365,430
2011-12
845
344,680
2012-13
287
160,254
2013-14
179
68,497
Ten years ago, cable theft was a relatively minor problem on British railways.
There were fewer than 100 thefts in both 2004-05 and 2005-06, according to Network Rail figures.
But in 2006-07, the number started to rise, before peaking in 2010-11 - when cable theft caused an average of a thousand minutes of delays each day.
A report by MPs on the Transport Committee in January 2012 called cable theft "a growth industry in the UK".
In November 2011, the government launched a "metal theft taskforce" with £5m funding, and introduced the scrap metal dealers legislation in 2013.
The transport minister, Lady Kramer, recently told the select committee the law had been "absolutely crucial" in reducing cable theft.
And the very latest figures suggest the trend is continuing. As of 16 August, Network Rail had recorded 43 cable thefts in 2014-15, causing 12,002 minutes of delays - equal to around 90 minutes per day.
The British Transport Police has also recorded a decrease in overall metal theft.
In 2011-12, the force dealt with 2,539 incidents. Two years later there were just 789.
The incidents recorded by the police were higher than Network Rail, as the BTP figures refer to all metal theft, rather than just cable.
The BTP is also responsible for transport other than Network Rail lines, such as the London Underground.