Where in the UK do people swear most on Twitter?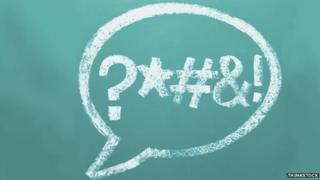 Research has revealed the areas of the UK in which Twitter users are most likely to swear in their posts.
Researchers from the Centre for Advanced Spatial Analysis (CASA) at University College London monitored all geo-located tweets sent from smartphones in the UK.
The findings, taken from 28 August to 4 September, showed Redcar and Cleveland to be the UK's most profane area.
Oxford and Westminster were among the least coarse.
The study took into account more than 1.3 million tweets.
Transfer-deadline peak
The study, for BBC Radio 4's Future Proofing programme, took into account more than 1.3 million tweets across the week - which included football's transfer-deadline day.
The biggest peak for coarse language followed Arsenal's signing of Manchester United forward Danny Welbeck at about 21:00 on Monday 1 September.
Other spikes in swearing came on Saturday and Sunday afternoons during football matches.
On weekdays, profane tweets were found to be more concentrated in the mornings - when people were getting ready for work - at lunchtime and at the end of the working day.
Monday at 17:00 saw a particularly high percentage of tweets containing swear words, as people posted about the pressures of their jobs.
'Most profane'
Using the geo-located tweets, researchers were able to create a map of the UK corresponding to the most coarse language.
The highest percentage of profane tweets was found in Redcar and Cleveland in North Yorkshire, with almost 8% of all posts containing swear words. Blackburn and Mansfield also scored highly in this respect.
| | |
| --- | --- |
| Ten most profane areas (by local authority) | Percentage of tweets containing swearing |
| 1. Redcar and Cleveland | 7.89 |
| 2. Clackmannanshire | 7.33 |
| 3. East Ayrshire | 7.24 |
| 4. Falkirk | 7.12 |
| 5. Strabane | 6.90 |
| 6. North Lanarkshire | 6.75 |
| 7. Wellingborough | 6.75 |
| 8. Corby | 6.60 |
| 9. Northumberland | 6.49 |
| 10. North Ayrshire | 6.45 |
At the other end of the scale, the Orkney Islands had the cleanest tweets. Oxford was the lowest ranked area of the mainland UK.
| | |
| --- | --- |
| Five least profane areas (by local authority) | Percentage of tweets containing swearing |
| 1. Orkney Islands | 0.81 |
| 2. Shetland Islands | 0.84 |
| 3. Oxford | 1.38 |
| 4. Westminster | 1.40 |
| 5. Kensington and Chelsea | 1.47 |
Although a number of Scottish areas feature in the top 10, two Scottish areas were also among the least profane.
'Positive' findings
Commenting on the findings, Dr Hannah Fry, one of the researchers behind the study, suggested the results did "nothing really to support this idea that people are much less civil to each other within cities".
"In fact, based on our study - which does contain only a week's worth of data - most of the top 10 are actually taken up by rural areas rather than urban," she said.
Dr Fry was also surprised that only 4.2% of all tweets surveyed contained any kind of profanity, especially considering that those posting tweets on their smartphones were likely to be young.
She said: "Twitter has a reputation for being really the home of angry, aggressive messages that people send each other."
"I think it says something a little more positive perhaps about how aggressive or civil we can be to one another."
Dr Hannah Fry presents Future Proofing on BBC Radio 4 at 20:00 BST, Wednesday 10 September - or catch up online.