Dave Lee Travis trial: TV researcher 'groped', court hears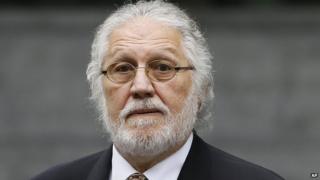 A female television personality has told a court she was left "shaking" after being indecently assaulted by former Radio 1 DJ Dave Lee Travis.
She said Mr Travis groped her during a recording of BBC's the Mrs Merton Show - where she worked as a researcher - when he appeared as a guest in 1995.
The court heard another woman claimed he put his hands between her legs at an Isle of Man nightclub in the 1980s.
Mr Travis denies two counts of indecent assault and one of sexual assault.
The DJ, 69, is being retried on one count of indecent assault of a woman in the 1990s and another of sexual assault on a different woman in 2008 - after a jury failed to reach verdicts earlier this year.
He has also pleaded not guilty to an additional count of indecent assault alleged to have taken place on 17 January 1995.
'Weird sexual thrill'
Giving evidence at Southwark Crown Court, the television personality said she was 22 when Mr Travis approached her as she was smoking a cigarette in a corridor of the BBC studios in Manchester.
She said she worked as a researcher for the Mrs Merton Show when the alleged indecent assault took place.
The former DJ - who is being tried under his real name, David Griffin - told her she "shouldn't be smoking" and gave her a "squeezing grope", she said.
"He started touching the bottom of my rib cage. Without saying anything else he just slid his hands up to and over my breasts and then kind of left them there and started squeezing," she added.
The woman said she felt shocked and told the court: "I absolutely knew he had some weird sexual thrill from this. I felt like I'd been punched, that feeling of being violated."
She said she went to see the show's producer "in a flap", not knowing what to do.
The woman said she later spoke publicly about what had allegedly happened, but did not report the incident to the police until January 2014.
'No recollection'
Stephen Vullo QC, barrister for Mr Travis, told court his client had "no recollection" of the alleged victim.
In cross-examination, he suggested that Mr Travis had touched the woman "briefly and accidentally".
"It wasn't accidental and it wasn't brief", she said.
The woman said she had felt guilty about not coming forward earlier.
Peter Kessler, a producer for the Mrs Merton Show, told the court how the woman had approached him after the alleged incident "looking astonished" and told him about meeting Mr Travis.
He said they decided to "put it down to experience" and that the woman would be kept away from Mr Travis for the rest of the evening.
"I can only go by her demeanour and it looked to me like it had been sleazy bad behaviour which might in some cases have been scarring and in other cases, unwelcomed," he said under cross-examination.
He told the court he had written to the woman in 2012 after reading a newspaper report that reminded him of the alleged incident.
He then went to the police at the prompting of his wife, who is a barrister.
'Came out shaking'
The court also heard of allegations against Mr Travis which do not relate to any of the charges he faces at his trial.
The jury were shown a recorded video interview with a woman who said she was sexually assaulted by Mr Travis in a nightclub in the Isle of Man in the 1980s.
The women said the alleged incident happened when she was working as a barmaid at the nightclub, where the DJ appeared some time between 1983 and 1985.
She said she had taken a tray of drinks into a room that had acted as his dressing room when he grabbed her on the breast and between her legs.
"I was dumbfounded, came out shaking," she said in the interview.
She said she decided to report the alleged incident when she saw Mr Travis on television during a previous court appearance.
Cross-examining the alleged victim, Mr Vullo said she had "entirely fabricated" numerous visits by Mr Travis to the nightclub, to which she replied: "That is not correct at all."
Meanwhile, a journalist told the court she was "embarrassed" when Mr Travis ran his hand down her back and touched her lower hip during an interview at his house in August 2005.
She said it was a "very embarrassing situation" and that she "instantly" moved away from Mr Travis and finished the interview, before he then drove her back to the train station.
The trial continues.