In Amenas inquest: British victims of Algeria attack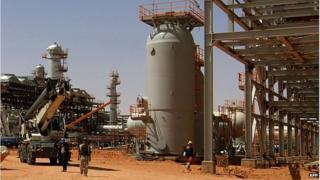 On 16 January 2013, militants linked to al-Qaeda attacked the In Amenas gas plant in Algeria.
Gunmen began the assault before dawn, taking numerous hostages and killing some workers, but the Algerian army regained control of the plant on 19 January.
By the end of the siege, 40 staff - mostly foreigners - and at least 29 militants had been killed.
Six of the workers killed were British and one was a Colombian who lived in London. An inquest into those deaths is in progress.
---
Garry Barlow
Garry Barlow's wife Lorraine first learned about the attack when her husband called and said he had been taken hostage by extremists.
He told her they had strapped explosives to his body, she said in an interview with the BBC.
There were two more increasingly frantic calls before she later found out he had been killed.
Giving evidence to the inquest, Mrs Barlow said she was "tortured by the circumstances" of her husband's death.
"I need to understand why this happened to such a wonderful man," she added.
Mr Barlow, a 50-year-old system supervisor at the plant, was from Liverpool and had two children.
Mrs Barlow said her husband was "very proud of his family, as they were of him".
David Murray, one of the British workers who survived the In Amenas attack, said Mr Barlow was a "great bloke".
---
Stephen Green
"Stephen's death has been very hard for us," Mr Green's father, David, told the inquest.
"I feel both grief and anger - grief that my son was refused a happy future and anger against those responsible. They are not forgiven or understood."
Colin Browning, one of Mr Green's BP colleagues, said: "Steve was a friendly and likeable guy, working well with everyone he met."
He said Mr Green was "very professional and committed to his role" as a health, safety, security and environment manager.
"He was respected and recognised for his contributions to safe working," Mr Browning added.
Mr Green, from Hampshire, had more than 23 years of experience on major international projects and had joined BP in 2012, the company said.
The 47-year-old was one of four BP workers killed at In Amenas, a plant jointly run by BP, Norway's Statoil and Algerian state company Sonatrach.
---
Sebastian John
During the inquest, Judge Nicholas Hilliard QC praised Sebastian John for his bravery.
The court heard Mr John, 26, sent emails with pictures of the terrorists to friends and family while he was held hostage.
The judge said: "So Mr Sebastian John had the presence of mind to make and send pictures of his captors, an extremely brave thing to do at considerable risk to himself."
Mr John, who was married and had a son, was the youngest of the Britons killed at In Amenas.
His wife, Nicola, said he was "the most amazing person... a fantastic husband, father, son and brother".
He was born in Luton but grew up in Norfolk then went to Loughborough University. He lived in Nottinghamshire after university but moved to Surrey to take up a job with BP in 2012.
His stepfather, David Pugh, said his stepson called him during the incident in Algeria.
"He told me he had been taken captive by the terrorists and that could I make sure that I looked after his mother and wife Nicola and be a strength for them and get him home, but I'm afraid that never happened," Mr Pugh said.
---
Paul Morgan
The first Briton to be named as a victim of the In Amenas attack was Paul Morgan, from Liverpool.
He was 46 when he died.
His mother, Marianne, and his partner, Emma Steele, said Mr Morgan was "a true gentleman, a family man".
They said they were "so proud of him and so proud of what he achieved in his life".
In a report last year, the Independent said the security expert had raised concerns about safety at the plant prior to the attack.
---
Carson Bilsland
John Macpherson, who had worked with Carson Bilsland as a ski instructor at Glenshee, described him as a "very vibrant character".
Mr Bilsland, from the village of Bridge of Cally in Perthshire, was 46 when he died.
According to a fundraising page set up in his memory, he was a "whirlwind of fun and adventure and a very decent human being".
It said he enjoyed activities including speed skiing and "anything else exciting and death defying".
He had an "incredible way with kids", it said, adding: "They loved his madcap ideas and childlike enthusiasm for life in general."
It said he had lived "all over the world" through his work in oil and gas, building a "wonderful network of friends and work colleagues".
---
Kenneth Whiteside
"It was on Facebook, of all things, that we actually found out of Kenny's demise," said Bob Whiteside, speaking about his brother.
"My daughter found a message from an Algerian co-worker."
He said British police later came to inform the family of the death.
Kenneth Whiteside, 59, was originally from Glenrothes in Fife but had lived in South Africa for 30 years.
He had been working in Algeria for about five years but safety concerns had never bothered him, his brother told the BBC.
"He's worked all over Africa and all over Russia. He's been around. He knew what the game was all about," he said.
---
Carlos Estrada
"Everyone loved Carlos," said Felipe Posada, BP North Africa president.
"He was full of energy, passionate about what he did, incredibly smart and liked by everyone he met."
Mr Estrada, who was originally from Colombia but had moved to London, was visiting In Amenas when the militants attacked.
He had worked for BP since 1995 and was a vice-president of part of the company responsible for "global projects".
He had a wife - Claudia - and two young daughters, and was 44 when he died.
"He was a huge talent for the future," Mr Posada added.
"He was also a great personal friend of mine and of many others.
"I will greatly miss him as I know will very many people in BP."